Naruto Shippuden: Box Set 1 (2 Discs)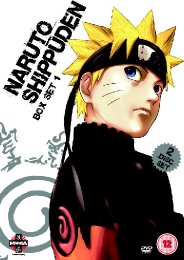 The Number One Ninja is back!
Certificate: 12
Running Time: 306 mins
Retail Price: £24.99
Release Date: 2010
Content Type: TV Series
Synopsis:
Naruto Uzumaki's one goal in life has always been to become the greatest ninja of all. His progress to date has been admirable, but with ever increasing danger looming in the form of the mysterious Akatsuki organization, Naruto is aware that he needs to up his game even further. His determination to improve his skills results in him leaving his village to pursue further training that will push him to his absolute limits.

Two-and-a-half years later, Naruto returns home to discover that everyone's been promoted up the ninja ranks - everyone except him. Sakura's now a medic ninja and Gaara's advanced to Kazekage. But pride isn't becoming of a ninja, especially when Naruto realizes that his good friend Sasuke never returned from his search for the snake-like shinobi, Orochimaru.

Meanwhile, the mysterious Akatsuki organization is still an ever-present danger. As Naruto learns more about the organization's goals, he realizes that nothing in his universe is as it seems.
Special Features:
Trailers
Production Art Gallery

Video Tracks:
Standard 1.33:1

Audio Tracks:
Dolby Digital Stereo 2.0 Japanese
Dolby Digital Stereo 2.0 English

Subtitle Tracks:
English

Directed By:
Hayato Date

Written By:
Junki Takegami
Masahiro Hikokubo
Satoru Nishizono
Shin Yoshida
Toshiyuki Tsuru
Yasuaki Kurotsu
Yasuyuki Suzuki
Yuka Miyata
Masashi Kishimoto

Starring:
Chie Nakamura
Junko Takeuchi
Noriaki Sugiyama
Akira Ishida
Hideo Ishikawa
Houchu Ohtsuka
Kazuhiko Inoue
Masako Katsuki
Nana Mizuki
Romi Park
Yoichi Masukawa
Kate Higgins
Maile Flanagan
Yuri Lowenthal
Brian Donovan
Crispin Freeman
Dave Wittenberg
David Lodge
Debi Mae West
Liam O'Brien

Music From:
Yasuharu Takanashi

Director of Photography:
Atsuho Matsumoto

Distributor:
Manga Entertainment