Mahoromatic: Something More Beautiful - Volume 1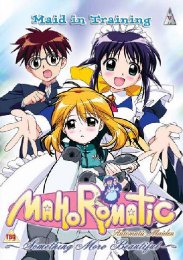 Troubles you can only dream of...
Certificate: 15
Running Time: 121 mins
Retail Price: £15.99
Release Date: 2010
Content Type: TV Series
Synopsis:
Orphaned high-schooler Suguru is so lacking in housekeeping skills that his friends have taken to referring to his humble abode as the 'haunted house'. Fortunately, the arrival of beautiful 19-year-old Mahoro solves his domestic problems in one fell swoop. Claiming to be an android, Mahoro may be able to catch flying bullets in her fingers but all she really wants to do is become Suguru's housemaid. Mahoro's presence doesn't please everyone, however, especially not Sugura's busty teacher, who has an unhealthy crush on her student and isn't about to allow a mere teenage maid come between her and the object of her desire. Sugura, himself, also has a slight problem with Mahoro's mantra of "I think that dirty thoughts are bad" and her tendency to confiscate his collection of porn magazines despite his best efforts to hide them.

One thing Suguru doesn't yet know about Mahoro, hoever, is that she only has 398 days to live and has chosen to live with and attend to him for a very specific reason.

Then, just as Suguru's life looks like it is finally returning to some state of 'normality', another new girl, Minawa, shows up and begins spying on him. But who is she and who could she possibly be working for? Before any of these questions can be answered, Mahoro adopts the girl as her little sister and invites her into Suguru's home as a maid-in-training.
Special Features:


Video Tracks:
1.78:1 anamorphic widescreen

Audio Tracks:
Dolby Digital 2.0 Stereo English
Dolby Digital 2.0 Stereo Japanese

Subtitle Tracks:
English

Directed By:
Hiroyuki Yamaga

Written By:
Hiroyuki Yamaga
Bow Ditama
Bunjuro Nakayama

Starring:
Ayako Kawasumi
Fujiko Takimoto
Asami Sanada
Ai Shimizu
Atsushi Kisaichi
Hideki Ogihara
Keiichi Noda
Manabi Mizuno
Takehito Koyasu
Unshou Ishizuka
Yumi Kikuchi
Yumi Takada
David Umansky
Ellen Wilkinson
Dave Lelyveld
David Lucas
Lex Lang
Melissa Charles
Michelle Ruff
Ron Allen
Tina Dixon
Wendee Lee
Willow Armstrong

Music From:
Toshio Masuda

Director of Photography:
Tsuguo Kozawa

Editor:
Takeshi Seyama

Producer:
Hiroki Sato
Mitsutoshi Kubota
Tetsuo Gensho
Yuichi Sekido

Distributor:
MVM