Phantom Punch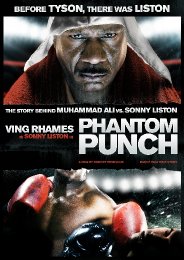 Before Tyson, there was Liston
Certificate: 15
Running Time: 100
Retail Price: £15.99
Release Date: 24/05/2010
Content Type: Movie
Synopsis:
Ving Rhames (Pulp Fiction) stars as one of the greatest and most brutal heavyweight boxers of all time: Sonny Liston.

Brought up on the wrong side of the tracks, a young Liston found himself in jail and facing a life of crime until he was persuaded by the prison priest to take up boxing. A year later he was a free man and a professional heavyweight boxer with one of the most powerful and feared punches in the sport.

With his viscous fighting style and a devastating left jab that lifted him up to fame and fortune, Liston battled through run-ins with the law and the Mafia to eventually claim the most important title of them all, the World Heavyweight Champion.

But his greatest challenge was left to come against Muhammad Ali and it would prove to become one of the fiercest rivalries in the history of the sport and left the legacy of the most famous knockout in history: the Phantom Punch.
Special Features:
-The History of the World's Greatest Heavyweights
- Muhammad Ali vs Sonny Liston: the Story of the Phantom Punch

Video Tracks:
Anamorphic Widescreen 1.78:1

Audio Tracks:
Dolby Digital 5.1 Surround English
Dolby Digital 2.0 Stereo English

Directed By:
Robert Townsend

Written By:
Ryan Combs

Starring:
Ving Rhames
Stacey Dash
Nicholas Turturro
Bridgette Wilson
David Proval
Rick Roberts
Alan Van Sprang
Egidio Tari
Andrew Hinkson
Troy Amos-Ross

Casting By:
Stephanie Gorin
Juli-Ann Kay

Soundtrack By:
Stephen James Taylor

Director of Photography:
John Dyer

Editor:
Michael Doherty


Costume Designer:
Joanna Syrokomla

Production Designer:
Bob Sher

Producer:
Marek Posival
Ving Rhames

Hassain Zaidi

Executive Producer:
Simon DeKaric
Byron A. Martin
Pazz Neglia
Wayne Thompson

Distributor:
Metrodome Distribution