As You Like It (Globe Theatre)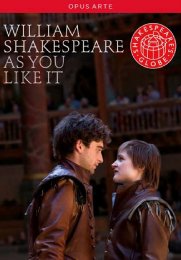 Recorded in October 2009
Certificate: N/A
Running Time: 147 mins
Retail Price:
Release Date:
Content Type: Movie
Synopsis:
Thea Sharrock's irresistible new production of Shakespeare's popular romantic comedy stirs wit, sentiment, intrigue and love into a charming confection which challenges the traditional rules of romance. At its heart, a feisty but feminine Rosalind (Naomi Frederick), in love with the endearingly naïve Orlando (Jack Laskey), uses her disguise as Ganymede to counsel him playfully in the art of wooing. Distraction is provided by Dominic Rowan, a remarkably funny Touchstone, and Tim McMullan, whose sonorous tones are perfectly suited to the lugubrious wit of Jaques. Filmed in High Definition and true surround sound.

Duke Frederick: Brendon Hughes
Olando: Jack Laskey
Adam: Trevor Martin
Oliver: Jamie Parker
Rosalind: Naomi Frederick
Celia: Laura Rogers
Touchstone: Dominic Rowan
Le Beau: Gregory Gudgeon
Charles: Sean Kearns
Duke Senior: Philip Bird
Amiens: Peter Gale
Corin: Sean Kearns
Silvius: Michael Benz
Jaques: Tim McMullan
Audrey: Sophie Duval
William: Gregory Gudgeon
Sir Oliver Martext: Peter Gale
Phebe: Jade Williams
Hymen: Ewart James Walters
Musicians: Rob Miller, Ben Grove, Tracy Holloway, David Powell and Dai Pritchard
Directed by Thea Sharrock
Designed by Dick Bird
Music composed by Stephen Warbeck
Choreographed by Fin Walker

Recorded live at Shakespeare's Globe Theatre, London, in October 2009.
Special Features:
Cast gallery
Famous Speeches

Related Websites:
http://www.shakespeares-globe.org/
http://www.opusarte.com/

Video Tracks:
16:9

Audio Tracks:
DTS 5.1
LPCM 2.0

Subtitle Tracks:
English