Utawarerumono: Volume 6 - A Song For Posterity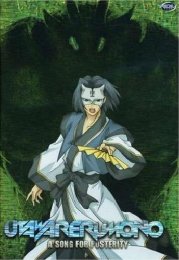 Hakuoro meets the man behind the mask
Certificate:
Running Time: 100 mins
Retail Price: $29.98
Release Date: 2007
Content Type: TV Series
Synopsis:
The question of Hakuoro's past has never loomed more ominously. Now, the reluctant leader is forced to piece together his true identity, even as more questions arise.

How is it possible to have a twin from an alternate world? Why is Eluluu named Mikoto in this futuristic world? And will the traitorous Genjimaru plunge his people into certain destruction as the new head of the Tuskuru army? One thing is for certain, Hakuoro must embrace both the darkness and light hidden deep within himself in order to find the truth.

Contains episodes 23-26.
Special Features:
Character Art Gallery
Extended Episode Previews
Omake Theater
Utawarerumono: Q & A
Utawarerumono PS2 Game Promo
Glossary
Clean Credits
Previews

Video Tracks:
1.78:1 anamorphic widescreen

Audio Tracks:
Dolby Digital 2.0 Stereo Japanese
Dolby Digital 5.1 Surround English

Subtitle Tracks:
English

Directed By:
Tomoki Kobayashi

Written By:
Makoto Uezu

Starring:
Rikiya Koyama
Ryoka Yuzuki
Akeno Watanabe
Satsuki Yukino
Hiroyuki Yoshino
Daisuke Kirii
Daisuke Namikawa
Hisako Kyouda
Hiroaki Ishikawa
Toru Ohkawa
Mai Nakahara
Miyuki Sawashiro
John Gremillion
Kira Vincent-Davis
Andrew Love
Sasha Paysinger
Brittney Karbowski
Christine Auten
Mike Vance
Chris Patton
Greg Ayres
Marcy Bannor
Vic Mignogna
Monica Rial

Music From:
Hijiri Anze
Miyu Nakamura

Director of Photography:
Takaya Mizutani

Producer:
Katsumi Koike
Toshio Hatanaka
Yasuo Ueda
Yutaro Mochizuki

Distributor:
ADV Films