Deathsport: The Roger Corman Collection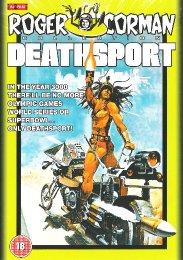 In the year 3000 there'll be no more Olympic Games, World Series or Superbowl... only Deathsport!
Certificate: 18
Running Time: 83
Retail Price: £5.99
Release Date: 03/05/2010
Content Type: Movie
Synopsis:
David Carradine (Kill Bill) stars in this sequel to 'Death Race 2000' as as Kas Oshay, one of the mounted 'Ranger Guides' who are fighting the motorcycling 'statesman' in this post-holocaust, rip-roaring sci-fi feast set one thousand years in the future.

The action is relentless as the Statesman try to capture Guides and force them to take part in sadistic gladiatorial contests, while both camps do their utmost to avoid the attentions of mutants cannibals with a thirst for human flesh.

Can the Rangers uphold their moral code and desire to do good when faced with their murderous and completely amoral enemies?
Special Features:


Video Tracks:
Full Frame 1.33:1

Audio Tracks:
Dolby Digital 2.0 Stereo English

Directed By:
Allan Arkush
Nicholas Niciphor

Written By:
Frances Doel
Nicholas Niciphor
Donald Stewart

Starring:
David Carradine
Claudia Jennings
Richard Lynch
William Smithers
Will Walker
David McLean
Jesse Vint
H.B. Haggerty
John Himes
Jim Galante
Peter Cooper
Brenda Venus

Soundtrack By:
Andy Stein

Director of Photography:
Gary Graver

Editor:
Larry Bock

Producer:
Roger Corman

Distributor:
In2Film