Attack of the Crab Monsters: The Roger Corman Collection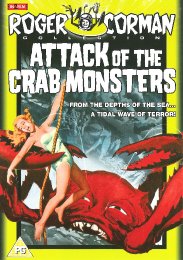 From the Depths of the Sea... A Tidal Wave of Terror!
Certificate: PG
Running Time: 60
Retail Price: £5.99
Release Date: 03/05/2010
Content Type: Movie
Synopsis:
This great action packed sci-fi adventure bares all the hallmarks of a Roger Corman movie.

A group of eminent scientists fly to a remote island to test the effects of nuclear weapons testing and are left stranded after their plane explodes.

But that's the least of their problems as they discover that the inhabitants of the island are highly intelligent, mutated, monstrous giant crabs.

Can the boffins survive the crabs and if they can what are they going to do about the island slowly sinking into the sea?
Special Features:


Video Tracks:
Full Frame 1.33:1

Audio Tracks:
Dolby Digital 2.0 Mono English

Directed By:
Roger Corman

Written By:
Charles B. Griffith

Starring:
Richard Garland
Pamela Duncan
Russell Johnson
Leslie Bradley
Mel Welles
Richard H. Cutting
Beach Dickerson
Tony Miller
Ed Nelson
Maitland Stuart
Charles B. Griffith

Soundtrack By:
Ronald Stein

Director of Photography:
Floyd Crosby

Editor:
Charles Gross

Producer:
Roger Corman

Distributor:
In2Film