Evangelion: 1.11 You Are (Not) Alone - 2 disc Collector's Edition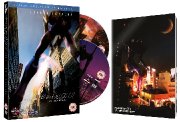 The classic anime series, reinvented for the big screen.
Certificate: 15
Running Time: 97 mins
Retail Price: £19.99
Release Date: 2010
Content Type: TV Series
Synopsis:
Written and Chief Directed by Anno (Neon Genesis Evangelion; Cutie Honey), with character designs by Yoshiyuki Sadamoto (Neon Genesis Evangelion; FLCL; The Girl Who Leapt Through Time) and mechanical designs by Ikuto Yamashita (Neon Genesis Evangelion; Gunbuster; Blue Submarine 6), the feature-length Evangelion: 1.11 You Are (Not) Alone is the first instalment of a four part project that rebuilds the seminal 'mecha' anime from the ground up by introducing a radically new storyline, new animation, additional CG imagery plus never-before-seen extended footage.

The year is 2015, and half of the Earth's population is dead, victims of a disaster at the turn of the millennium dubbed the Second Impact and thought to have been the result of a cataclysmic meteor strike on Antarctica. In fact, the event was brought about by human interaction with a race of alien beings known only as Angels. To defend the earth against future attacks from the Angels, humans were forced to utilize the Angels' alien technology in creating a new breed of bio-engineered vessels, the Evangelions, giant robot-like weapons piloted by human youths.

Answering a summons from his estranged, enigmatic, scientist father, 14-year-old Shinji Ikari arrives in the rebuilt city of Tokyo-3 just as another Angel attacks only to learn that he is next in line to pilot an Evangelion and defend the city, and ultimately the planet, from the rampaging alien force!

A beautifully envisioned and thought-provoking apocalyptic sci-fi adventure, Evangelion: 1.11 You Are (Not) Alone will astound and delight fans of the original series while introducing a whole new audience to this incredible and eve-popular saga.
Special Features:
Rebuild of Evangelion 1.01 featurette
Angel of Doom Promotional Music Video
News Flashes
Movie Previews
Bonus Evangelion 1.01 DVD disc
Special packaging
Bonus booklet

Video Tracks:
1.85:1 anamorphic widescreen

Audio Tracks:
Dolby Digital 5.1 Surround English
Dolby Digital 5.1 Surround Japanese

Subtitle Tracks:
English

Directed By:
Hiroshi Haraguchi
Kazuya Tsurumaki
Masayuki
Hideaki Anno

Written By:
Hideaki Anno
Yoshiki Sakurai

Starring:
Kotono Mitsuishi
Megumi Hayashibara
Megumi Ogata
Akira Ishida
Fumihiko Tachiki
Motomu Kiyokawa
Yuriko Yamaguchi
Hiro Yuuki
Allison Keith
Brina Palencia
Spike Spencer
Colleen Clinkenbeard
Jerry Jewell
John Swasey
Kent Williams
Mike McFarland

Music From:
Shiro Sagisu

Director of Photography:
Toru Fukushi

Editor:
Hiroshi Okuda

Production Designer:
Hideaki Anno

Executive Producer:
Toshimichi Ootsuki

Distributor:
Manga Entertainment