The Big Bird Cage: The Roger Corman Collection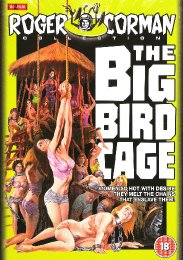 Women so hot with desire they melt the chains that enslave them!
Certificate: 18
Running Time: 96
Retail Price: £5.99
Release Date: 05/04/2010
Content Type: Movie
Synopsis:
Scandalous social climber Terry (Anitra Ford) becomes accidentally involved in the highest in a tropical night club carried out by two revolutionaries: Blossom (Pam Grier) and Django (Sid Haig).

In the confusion, Terry is wrongly arrested and thrown into a notorious women's jungle prison, which just happens to be teaming with scantily-clad inmates.

Prison life is brutal and sadistic as the women are overworked, underfed and subjected to numerous indignities. The outlook is grim until Blossom and Django hatch a cunning plan to liberate the prisoners.

Jack Hill's direction produced one of the definitive exploitation movies of the 70s from the Roger Corman stable with its marvellous tongue-in-cheek style of delivery.
Special Features:


Video Tracks:
Full Frame 1.33:1

Audio Tracks:
Dolby Digital 2.0 Mono English

Directed By:
Jack Hill

Written By:
Jack Hill

Starring:
Pam Grier
Anitra Ford
Candice Roman
Teda Bracci
Carol Speed
Karen McKevic
Sid Haig
Marissa Delgado
Vic Diaz
Andres Centenera
Rizza
Subas Herrero
Wendy Green

Soundtrack By:
William Allen Castleman
William Loose

Director of Photography:
Felipe Sacdalan

Editor:
Jere Huggins
James Mitchell

Producer:
Cirio H. Santiago
Jane Schaffer

Executive Producer:
Roger Corman

Distributor:
In2Film