The Unborn: The Roger Corman Collection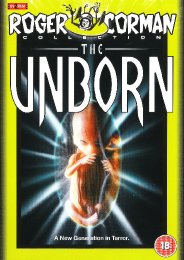 A New Generation In Terror
Certificate: 18
Running Time: 81
Retail Price: £5.99
Release Date: 05/04/2010
Content Type: Movie
Synopsis:
Virginia (Brooke Adams) and Brad Marshall (Jeff Hayenga) are trying unsuccessfully to have a child.  In desperation, they sign on for IVF treatment at a clinic run by Dr. Richard Mayerling (James Karen)

They are overjoyed when Virginia is confirmed as being pregnant and look forward with growing excitement to their new arrival.

Gradually Virginia senses something is wrong and a disturbing encounter with another of Dr. Meyerling's patients confirms her worst fears.  Things go from bad to worse as it becomes clear that the foetus is in charge of the proceedings and Dr. Meyerling doesn't have his patients' interests at heart.

As the terror builds to a terrifying conclusion, keen-eyed movie fans should keep a look out for a screen debut by Lisa Kudrow (Friends) as the doctor's receptionist Louisa.
Special Features:


Video Tracks:
Full Frame 1.33:1

Audio Tracks:
Dolby Digital 2.0 Mono English

Directed By:
Rodman Flender

Written By:
John D. Brancato
Michael Ferris

Starring:
Jeff Hayenga
James Karen
Brooke Adams
Jane Cameron
Rick Dean
Jonathan Emerson
Angelina Estrada
Kathy Griffin
Wendy Kamenoff
Janice Kent
Lisa Kudrow
Rick Podell
Matt Roe
Laura Stockman

Soundtrack By:
Gary Numan
Michael R. Smith

Director of Photography:
Wally Pfister

Editor:
Patrick Rand

Production Designer:
Gary Randall

Producer:
Roger Corman
Rodman Flender

Executive Producer:
Mike Elliott

Distributor:
In2Film