Mayerling (Royal Ballet - 2009)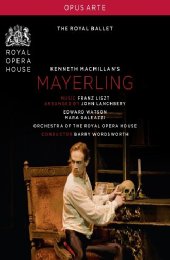 2009 performance of Kenneth MacMillan's ballet from the ROH
Certificate: N/A
Running Time: 157 mins
Retail Price: £24.99
Release Date: 01/03/2010
Content Type: Musical Recording
Synopsis:
Edward Watson takes the role of Crown Prince Rudolf in Kenneth MacMillan's compelling ballet which lives out the final eight years of Rudolf's life with its relentless downward spiral of political intrigue, drugs and murder. It culminates with the suicide pact at the hunting lodge - known as Mayerling - between Rudolf and his 17-year-old mistress, Mary Vetsera (Mara Galeazzi). Filmed in high definition and recorded in true surround sound.

Crown Prince Rudolf of Austria-Hungary: Edward Watson
Baroness Mary Vetsera: Mara Galeazzi
Princess Stephanie: Iohna Loots
Emperor Franz Josef of Austria-Hungary: William Tuckett
Empress Elisabeth: Cindy Jourdain
Countess Marie Larisch: Sarah Lamb
Baroness Helene Vetsera: Elizabeth McGorian

Orchestra of the Royal Opera House
Conductor: Barry Wordsworth
Choreographer: Kenneth MacMillan

Recorded live at the Royal Opera House, Covent Garden, London, October 2009.
Special Features:
Illustrated synopsis
Cast gallery
Principles in rehearsal with Edward Watson & Mara Galeazzi
Short feature on costumes

Related Websites:
http://www.roh.org.uk/
http://www.opusarte.com/

Video Tracks:
16:9

Audio Tracks:
DTS 5.1
PCM Stereo

Subtitle Tracks:
French
German
Spanish
(for extra features only)