The Haunted World of El Superbeasto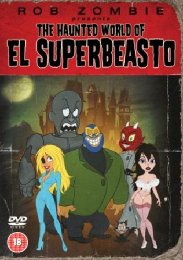 Certificate: 18
Running Time: 77
Retail Price: £14.99
Release Date: 22/02/2010
Content Type: TV Series
Synopsis:
Based upon Zombie's highly successful adult comic 'Spookshow International' and featuring a fantastic voice cast THE HAUNTED WORLD OF EL SUPERBEASTO is a fantastically original guilty pleasure. This unique animation is like nothing you've seen before and will have you laughing out loud with one shameless sexual shenanigan after another!

El Superbeasto (Tom Papa), is a washed up former world class masked wrestler who uses his fame to unashamedly get laid, get loaded, star in tasteless porn and occasionally fight crime using his superhuman strength.

Keeping it in the family - Superbeasto's sister and partner in crime the scantily clad Suzi X (Sheri Moon) is a gorgeous, ass-kicking, blonde bombshell who combats evil in tight fitting PVC. Suzi regularly peels it off to reveal her voluptuous figure much to the joy of Marvin her Robotic side kick, who gets his daily kicks out of Suzi riding on him as he transforms into her getaway bike!

Enter the deluded lead villain Dr. Satan (Paul Giamatti), who believes he is the most evil and merciless mastermind in Monsterland. A wicked but weak lothario with manic depression, his sole goal is to find the perfect wife as he will then gain the true strength of Satan! Having killed his past twenty-three wives he feels his luck will be in with number twenty four!

Dr Satan settles his marriage search on the most outrageous, foul mouthed and money-grabbing stripper in town - the tantalizing and straight - talking Velvet Von Black (Rosario Dawson). Whisked away after her strip show by Dr Satan's smart ape, Henchman, Superbeasto and Suzi X are in close pursuit to stop the unholy union! Will Superbeasto be able to stop Dr Satan transforming into a super Satan and destroying the world?!
Special Features:
• Deleted Scenes
• Alternate scenes
• Full Length Animatic
• Stills Gallery
• Trailer

Video Tracks:
Anamorphic Widescreen 1.78:1

Audio Tracks:
Dolby Digital 5.1 Surround English
Dolby Digital 2.0 Stereo English

Directed By:
Rob Zombie

Written By:
Mike Bell
Joe Ekers
Tom Papa
Rob Zombie

Starring:
Ken Foree
Tom Papa
April Winchell
Dee Wallace
Laraine Newman
Cassandra Peterson
Jess Harnell
Harland Williams
Rob Paulsen
Debra Wilson
Tom Klein
Clint Howard
Sheri Moon Zombie
Brian Posehn
Tom Kenny
Paul Giamatti
Rosario Dawson
John Di Maggio
Danny Trejo
Tura Satana
Sid Haig

Soundtrack By:
Tyler Bates

Editor:
Bret Marnell

Production Designer:
James Hegedus

Producer:
Andy Gould
Tom Klein

Executive Producer:
Jerry Davis
John W. Hyde
Rob Zombie

Distributor:
Anchor Bay