The Haunted World of El Superbeasto
Rob Zombie has many strings to his bow: musician, film director and comic book writer.  One of his projects was the comic book Spookshow International, which he has adapted into a animated feature called The Haunted World of El Superbeasto.  Surrounding himself with familiar names to lend their voices (Ken Foree, Sheri Moon Zombie and Sid Haig), the cartoon follows celebrity former wrestler and part time crime fighter, El Superbeasto, whose services are once again called upon.
 
Assisted by his sister and partner in crime Suzi X, a voluptuous blonde who frequently strips off, much to the delight of her robot assistant Marvin (who also transforms into her getaway motorbike), El Superbeasto is called into action when Dr, Satan plans marriage number 24 that could spell the end of mankind.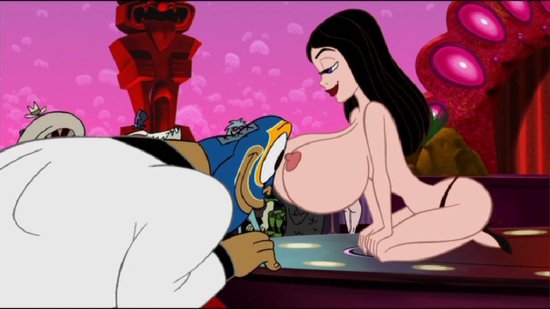 A frequenter of strip clubs, El Superbeasto is blown away when he sees Velvet Von Black perform as she has pneumatic breasts and buttocks that she can inflate at will and control.  Also smitten is the weakest villain in Monsterland, Dr. Satan, who spies the 666 mark on her right buttock and realises she is the key to his transformation into Satan himself.  When Dr. Satan's simian henchman, Henchman, a super intelligent Gorilla that the doctor has transformed from a wild creature into a cultured being with an English accent, kidnaps Velvet, it is up to El Superbeasto and Suzi X to save the day.  
Of course, nothing was ever likely to go smoothly and there is a small matter of zombie Nazis and Dr. Satan's fortress of a castle to stand in our heroes' way.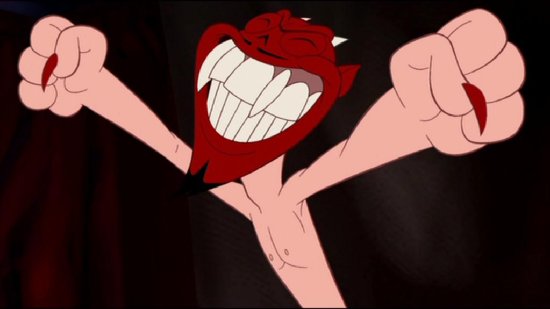 The Haunted World of El Superbeasto
is very much an adult-oriented cartoon with plenty of naked flesh, sex references and bloody violence on show in what is something that is flimsy at best.  As I'm not familiar with the comic book, I had no idea of the backstory or the characters' histories and these are only explained at the beginning of the film with the shortest of exposition.  I therefore just watched it for what it is and tried to enjoy the ride. 
There isn't anything particularly clever or challenging about
El Superbeasto
, it's just a film where you sit back and watch, not having to think too deeply about anything - it is a little (aesthetically at least) like the Pamela Anderson cartoon series
Stripperella
- but anything that introduces a major character by her theft of Hitler's embalmed head shouldn't be taken too seriously!  This doesn't so much as rely on innuendo as put everything right on show, with no particularly subtle gags, just ones that are pretty crude.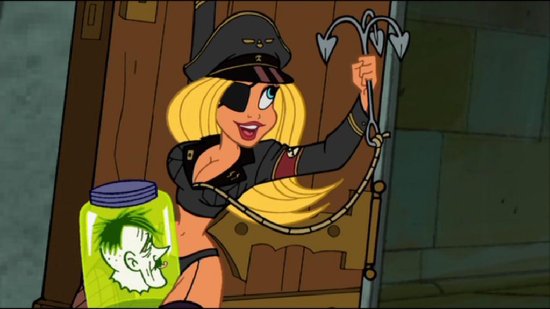 The voice casting is very good with Tom Papa superb in the title role, Sheri Moon Zombie and Rosario Dawson suitably sexy and sultry as Suzi X and Velvet Von Black respectively, but the biggest name attached is Paul Giamatti who lends Dr. Satan a real ambition and sense of self aggrandisement. 
I enjoyed this, but I'm not sure why.  It's a similar feeling to some of the [adult swim] material but that is generally smarter and funnier than this - there are more laughs in a single spisode of
Aqua Teen Hunger Force
than the entire running time of
The Haunted World of El Superbeasto.
 Saying that, there is a lot to like and I imagine that fans of the comic book will appreciate it more than newcomers to Rob Zombie's animated output. 
The Disc
Extra Features
The whole film is available to watch in animatic form, which shows you the massive difference that a Korean animation studio can make to the rough material!  I didn't watch it all the way through like this and can't imagine why anyone would want to - it's good to have a comparison, but the whole film!? 
There are over 30 minutes of alternate scenes, most of which never made it past the animatic form, and another four minutes of deleted scenes which are fully finished and just cut from the film for some reason, though it's not always clear why and there is no commentary or introduction to enlighten you. 
Also included is a trailer and stills gallery.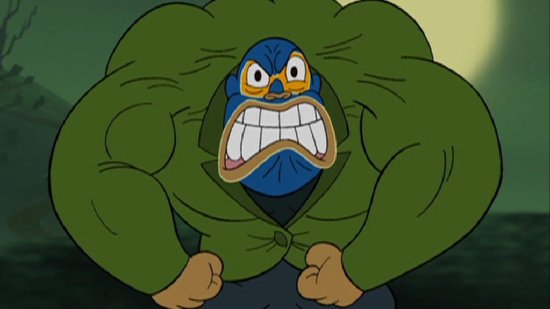 The Picture
A very clear 1.78:1 anamorphic picture with excellent animation and no blurring during the quicker moving scenes which was obviously made at a very high standard as the film is also being released on Blu-ray.  
The Sound
I started off with the Dolby Digital 5.1 and switched to the stereo option to see what it was like and stuck with it as the 5.1 option uses the surround speakers unnecessarily and was a little distracting.  Nothing is lost in the more action oriented scenes by having the stereo rather than the surround option and the dialogue is more pronounced.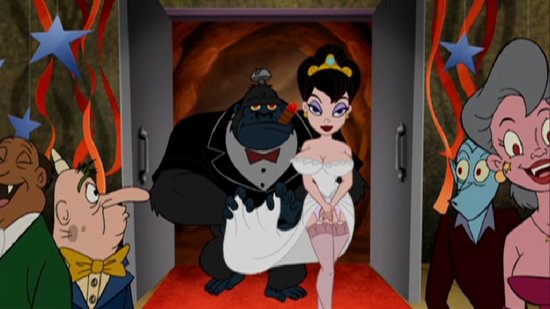 Final Thoughts
The Haunted World of El Superbeasto
is nothing special or groundbreaking but it isn't bad either.  It's well animated with good voice talent and keeps you entertained throughout.  Doubtless fans of Spookshow International will snap this up but, for everyone else, have a look at the trailer, imagine it with more nudity and explicit language, and see what you think.