Leon: The Professional Director`s Cut (US)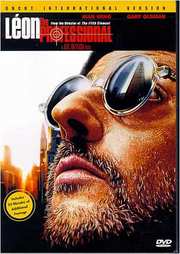 From the Director of "La Femme Nikita"
Certificate: none
Running Time: 133 mins
Retail Price: $29.95
Release Date:
Content Type: Movie
Synopsis:
A perfect assassin. An innocent girl. They have nothing left to lose except each other. He moves without sound. Kills without emotion. Disappears without trace. Only a 12 year old girl knows his weakness.

One of the most eagerly awaited DVD`s is has finally been given a release date. Jean Reno plays the perfect assassin, Leon. Natalie Portman plays Mathilda the not so innocent 12-year-old girl who Leon reluctantly take care of after her parents and little brother are killed in a revenge attack by Stansfield and his gang, after her father gets involved in drugs.

Mathilda who was out of the New York apartment at the time shopping, survives by finding shelter with neighbour Leon. She soon discovers his profession, a hit man, and seeks his help to extract revenge on her families killers. Leon a ruthless killer who is unfamiliar with friendships and fatherly tasks, soon discovers his abilities to love and care for a 12-year-old with nothing to lose.
Special Features:
Interactive Menus
Scene Access
Production Notes
International Ad Campaign
Isolated Music Score
Theatrical Trailers
Talent Files

Video Tracks:
Widescreen Anamorphic 2.35:1

Audio Tracks:
Dolby Digital 5.1 English
Dolby Digital Surround 2.0 English

Subtitle Tracks:
French
English
Spanish
CC: English
Portuguese

Directed By:
Luc Besson

Written By:
Luc Besson

Starring:
Don Creech
Willie One Blood
Peter Appel
Danny Aiello
Natalie Portman
Gary Oldman
Jean Reno

Casting By:
Todd M. Thaler

Soundtrack By:
Eric Serra

Director of Photography:
Thierry Arbogast

Editor:
Sylvie Landra

Costume Designer:
Magali Guidasci

Production Designer:
Dan Weil

Producer:
Bernard Grenet
Luc Besson

Executive Producer:
Claude Besson

Distributor:
Columbia / Tristar