Fate/Stay Night: Volume 2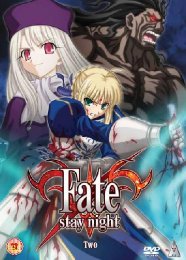 The holy grail war continues!
Certificate: 12
Running Time: 97 mins
Retail Price: £15.99
Release Date: 2010
Content Type: TV Series
Synopsis:
Ten years ago a secret war was fought by master Mages with their Servants in order to obtain the Holy Grail and the powers it was believed to possess. The result of the bloody conflict proved to be devastating to everyone. Today, another Holy Grail War is about to begin, but this time with new masters raging to win the hallowed prize.

One such master is Shirou, a self-styled champion of justice who eschews the mask and cape get-up of most heroes in favour of being himself - a quietly helpful, self-sacrificing and principled individual. The only survivor of a tragedy that cut a swath of destruction through his home town ten years earlier, Shirou recently witnessed an altercation between two supernaturally skilled warriors and was soon drawn into a battle between seven Magi and their seven Servants, a group of resurrected legendary warriors from around the world.

The Magi have assembled and the War for the Grail has begun. A new battle begins as the next Servant attacks and draws blood. Who could Rider's master be? Shirou must be extra careful, when even his closest friends could be deadly enemies. Nonetheless, Shirou isn't your typical master when he attempts to have Saber interact with his "normal" lifestyle and introduces her to his teacher, Ms. Fujimura and his closest friend Sakura.
Special Features:
Textless Closing
Trailers

Video Tracks:
1.78:1 anamorphic widescreen

Audio Tracks:
Dolby Digital 2.0 Stereo English
Dolby Digital 2.0 Stereo Japanese

Subtitle Tracks:
English

Directed By:
Yuji Yamaguchi

Written By:
Takuya Sato

Starring:
Ayako Kawasumi
Kana Ueda
Noriaki Sugiyama
Atsuko Tanaka
Hiroshi Kamiya
Jouji Nakata
Junichi Suwabe
Mai Kadowaki
Miki Itou
Mitsuaki Madono
Nobutoshi Canna
Noriko s***aya
Kate Higgins
Mela Lee
Sam Regal
David Vincent
Doug Erholtz
Grant George
Jennifer Sekiguchi
Julie Ann Taylor
Karen Strassman
Lex Lang
Liam O'Brien

Music From:
Kenji Kawai

Director of Photography:
Shinyo Kondo

Editor:
Masahiro Matsumura

Producer:
Masaaki Saito
Mitsutoshi Ogura
Takayuki Matsunaga
Tetsuo Gensho
Tomotaka Takeuchi

Distributor:
MVM