Away We Go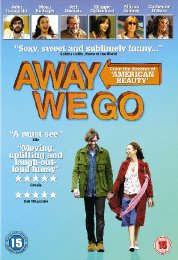 Certificate: 15
Running Time: 98
Retail Price: £17.99
Release Date: 01/02/2010
Content Type: Movie
Synopsis:
Longtime (and now thirtysomething) couple Burt (John Krasinski) and Verona (Maya Rudolph) are going to have a baby. The pregnancy progresses smoothly, but six months in, the pair are delivered news from Burt's parents Jerry and Gloria (Jeff Daniels and Catherine O'Hara) that they are moving out of Colorado - thereby eliminating the expectant couple's main reason for living there.

As Burt & Verona ask themselves 'what does it mean to have a family these days' they take a road trip to visit friends and family in the hope that they will find the perfect place to put down roots and raise their child.

Encountering various endearing and amusing mishaps and misadventures along the way, the pair reconnects with an assortment of eclectic relatives and old friends, who just might help them discover "home" on their own terms for the first time.
Special Features:
- Audio Commentary
- The Making of Away We Go
- Green Filmmaking

Related Websites:
http://www.awaywegothemovie.co.uk

Video Tracks:
Anamorphic Widescreen 2.35:1

Audio Tracks:
Dolby Digital 5.1 Surround English
Dolby Digital 2.0 Stereo English

Subtitle Tracks:
English HoH

Directed By:
Sam Mendes

Written By:
Dave Eggers
Vendela Vida

Starring:
John Krasinski
Maya Rudolph
Carmen Ejogo
Catherine O'Hara
Jeff Daniels
Allison Janney
Jim Gaffigan
Samantha Pryor
Conor Carroll
Maggie Gyllenhaal
Josh Hamilton
Chris Messina
Melanie Lynskey
Colton Parsons
Katherine Vaskevich
Jerome Stephens Jr.
Brianna Eunmi Kim
Paul Schneider
Isabelle Moon Alexander

Casting By:
Ellen Lewis
Debra Zane

Soundtrack By:
Alexi Murdoch

Director of Photography:
Ellen Kuras

Editor:
Sarah Flack

Costume Designer:
John A. Dunn

Production Designer:
Jess Gonchor

Producer:
Peter Saraf
Edward Saxon
Marc Turtletaub

Executive Producer:
Mari-Jo Winkler
Pippa Harris

Distributor:
E1 Entertainmenet