Andrei Rublev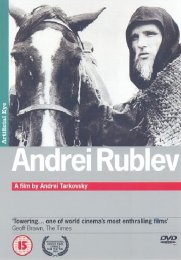 Certificate: 15
Running Time: 185 mins
Retail Price:
Release Date:
Content Type: Movie
Synopsis:
Widely regarded as Tarkovsky's finest film, 'Andrei Rublev' charts the life of the great icon painter through a turbulent period of 15th century Russian history, which was marked by endless fighting between rival Princes and Tartar invasions.

Made on an epic scale, it does not flinch from portraying the savagery of the time, from which, almost inexplicably, the serenity of Rublev's art arose.

The great set-pieces - the sack of Vladimir, the casting of the bell, the pagan ceremonies of St. John's Night and the Russian crucifixion are tours-de-force of visceral filmmaking.

This DVD presents the film on 2 discs with a fully restored and remastered picture and soundtrack.
Special Features:
Interview with Tarkovsky's sister, MArlina Tarkovskaya
Interview with actor Yuri Nazarov
Theophanes the Greek, Andrei Rublov and beind the scenes featurettes
Filmographies
Stills gallery
Tarkovsky trailers

Related Websites:
http://www.artificial-eye.com/home.php

Video Tracks:
16:9 Anamorphic (B&W and colour)

Audio Tracks:
DD 5.1 Russian
DD 5.1 French

Subtitle Tracks:
English
French
German
Spanish
Dutch
Italian
Portuguese
Japanese
Hebrew
Swedish
Chinese
Arabic
Russian

Directed By:
Andrei Tarkovsky

Written By:
Andrei Konchalovsky
Andrei Tarkovsk

Starring:
Anatoli Solonitsyn
Ivan Lapikov
Nikolai Grinko
Nikolai Sergeyev
Irma Raush
Nikolay Burlyaev
Yuriy Nazarov

Soundtrack By:
Vyacheslav Ovchinnikov

Director of Photography:
Vadim Yusov

Editor:
Lyudmila Feiginova
Olga Shevkunenko
Tatyana Yegorychyova

Costume Designer:
Maya Abar-Baranovskaya
Lidiya Novi

Production Designer:
Yevgeni Chernyayev
Ippolit Novoderyozhkin
Sergei Voronkov

Producer:
Tamara Ogorodnikova

Distributor:
Artificial Eye