Blood Feast 2: All U Can Eat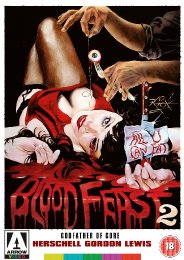 Certificate: 18
Running Time: 93
Retail Price: £15.99
Release Date: 11/01/2010
Content Type: Movie
Synopsis:
From the legendary Godfather of Gore, Herschell Gordon Lewis (The Wizard Of Gore; She-Devils On Wheels; Two Thousand Maniacs), comes the fantastically tongue-in-cheek (and in several of the film's more graphic moments, "tongue out of cheek") splatterfest, BLOOD FEAST 2: ALL U CAN EAT, the long-awaited sequel to his 1963 classic "Blood Feast". Once more, Lewis serves up an extra fresh order of brains, guts and various other body parts to prove he's lost none of his blood-soaked touch for comedic carnage and murderous mayhem.
Two generations after the cannibalistic caterer Fuad Ramses wreaked bloody havoc in the suburbs of Miami, his heir and grandson, Fuad Ramses III is on hand to revive the family business. Unaware of his grandfather's indiscretions, and having inherited his ancestor's bakery and confectionary store, young Fuad takes over the premises and sets about establishing himself as the supplier of quality food to the local community. Unfortunately, he is immediately possessed by the long-dormant demonic icon of Ishtar, an ancient, blood hungry goddess. Soon, Fuad is sequentially knocking off the guests of a wedding for which he has been employed to oversee the catering requirements and is using their bloody remains as the secret ingredients in his culinary delights.

Unsuccessfully trying to get to the bottom of the current spate of bizarre murders are a couple of bumbling cops, one of whom is due to be the groom at the forthcoming nuptials, the other a food-junkie who develops an irresistible appetite for Fuad's delicious wares.
Special Features:
• Gore Gourmet
• Behind The Gore
• Behind The Scenes
• On The Set
• Deleted Scenes

Video Tracks:
Letterboxed 1.78:1

Audio Tracks:
Dolby Digital 2.0 Stereo English

Directed By:
Herschell Gordon Lewis

Written By:
W. Boyd Ford

Starring:
John McConnell
Mark McLachlan
Melissa Morgan
Toni Wynne
J.P. Delahoussaye
Chris Mauer
Christy Brown
Christina Cuenca
Michelle Miller
Kristi Polit
Jill Rao
Cindy Roubal
Veronica Russell

Casting By:
Brian Pitt

Director of Photography:
Chris W. Johnson

Editor:
Steven Teagle

Costume Designer:
Kacee Pecue

Production Designer:
Michelle Rolland

Producer:
Jacky Lee Morgan

Executive Producer:
David F. Friedman

Distributor:
Arrow Video