Samurai Princess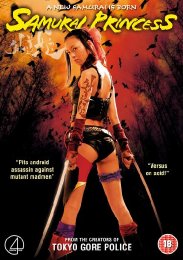 New Samurai Is Born
Certificate: 18
Running Time: 82 mins
Retail Price: £14.99
Release Date: 2009
Content Type: Movie
Synopsis:
Kengo Kaji, who wrote Tokyo Gore Police, writes and directs this new genre-bending sci-fi/fantasy gore-fest from Japan. Yoshihiro Nishimura handles the special make-up effects, as he did for Tokyo Gore Police, Machine Girl and Vampire Girl vs Frankenstein Girl.

Samurai Princess pits android assassin against mutant madmen in an alternate universe version of feudal Japan. In this version of history, trainyard duels, detachable chainsaw limbs, and breast grenades are commonplace occurrences, while mad scientists twist the laws of nature to create sentient robots that can pass as human and crave souls.

Enter an android warrior with a penchant for bloodletting (AV starlet Aino Kishi) and her human partner (Dai Mizuno), whose eardrum-crushing electric guitar riffs are so loud, they're literally weapons of mass destruction. When our heroine is infused with the souls of eleven of her fallen sisters, she uses their combined power to take down anyone who stands in the way of her quest for humanity. The result is a nonstop geyser of gore, with skeletons popping out of torsos and every imaginable appendage removed from bodies!
Special Features:


Directed By:
Kengo Kaji

Written By:
Kengo Kaji
Sôtarô Hayashi

Starring:
Yû Aiba
Takeshi Ayabe
Miki Hirase
Mitsuru Karahashi
Asuka Kataoka
Aino Kishi
Mihiro
Dai Mizuno
Mao Shiina
Kentarô Shimazu
Eri Shinmoto
Sarasa Tani
Yukari Tateishi

Music From:
Osamu Hata

Visual Effects:
Tsuyoshi Kazuno

Distributor:
4Digital Asia