Curse of the Wolf
Len Kabasinski's second feature is a little like James Isaac's Skinwalkers in that it involves a pack of werewolves after one of their own.  In that film it was a half-breed that would have seen their extinction but in Curse of the Wolf the pack are looking for Dakota, a werewolf who has decided to pursue a normal life after discovering a drug that will prevent her changing at full moon. 
 
Her pack doesn't want to lose her and want to bring her back into the fold.  Moving to a different area and getting a job at a veterinary hospital where she has access to the drug, used for sedating large dogs, Dakota keeps herself to herself but when a co-worker is attacked in the car park, she goes to the rescue and her strength and fighting skills come to the fore.  She gains the attention of a local at a bar and he asks to pick her up for breakfast the next day; when he doesn't show, she knows why.  Her pack, led by Michael, having tracked her down, issue her with an ultimatum: rejoin us or we'll kill your boyfriend.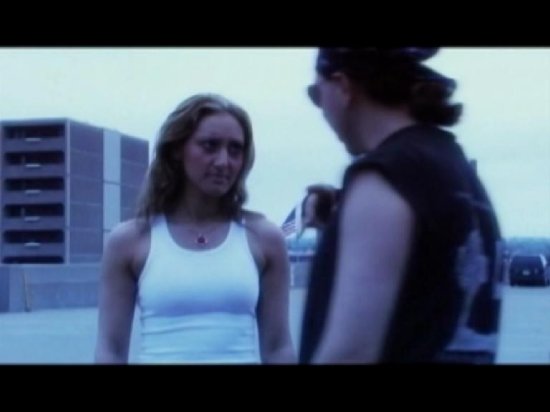 The bar is owned by a crime boss who deals drugs and has a bone to pick with the werewolves after one of them killed a group of his dealers.  Dakota decides to team up with him and his gang and take out the pack, saving her friend in the process. 
Curse of the Wolf doesn't get off to a great start when the first werewolf you see is obviously a man wearing a Halloween wolf mask and gloves - this isn't a 'man in a rubber suit' type of film, aiming for something more realistic but fortunately, as the only way is up, things improve from there. 
Kabasinski seemingly knows low budget horror and its audience's expectations: gore, nudity and jumps.  He certainly delivers on the first two counts with some violent werewolf attacks (including one beheading) and, with two of the pack being lesbians (one played by frequent collaborator and adult film star Darian Caine) who are quite happy to lay around with nothing on and take leisurely baths at 6am(!) it doesn't skimp on nudity.  Unfortunately, it isn't at all scary and though Renee Porada does her best in her first film, Dakota is only relatively interesting and easy to empathise with.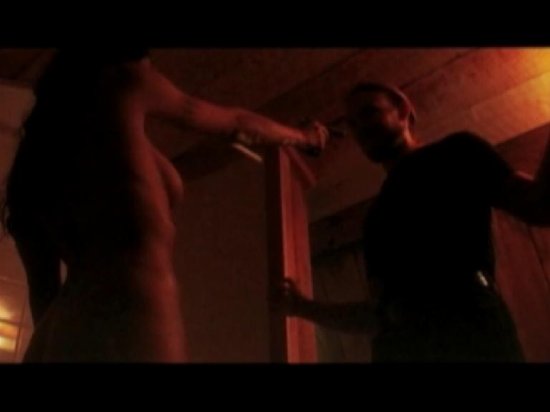 Curse of the Wolf is certainly watchable but the film should just be about Dakota and the pack, not involving a crime syndicate and certainly not a martial arts infused shoot-out where Kabasinski (playing one of the gangsters) gets into a fight with a werewolf.  There are continuity errors, clichéd dialogue and poor characterisation but this is a film that is easy to watch and was exactly what I expected.  
The Disc
Picture and Sound
The letterboxed picture is reasonably clear but the contrast levels are very low, making the night scenes very low clarity.  The werewolf make-up is very hit and miss, some of it is just plain laughable whereas others don't look too bad.  
The film employs the same heavy metal soundtrack as Fist of the Vampire - I can only assume that Kabasinski knows the band - but the dialogue is reasonably clear.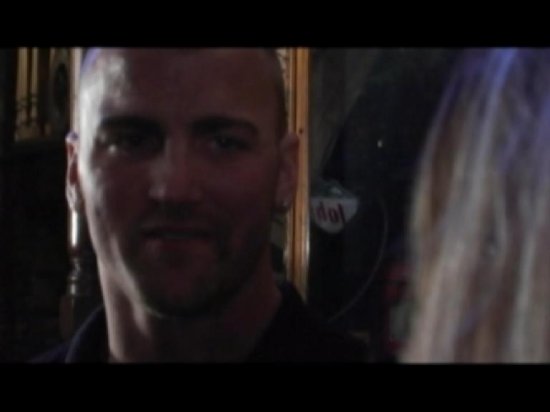 Final Thoughts
Kabasinski is probably a better martial arts practitioner than filmmaker as, though he knows how to write a screenplay, his direction is a little leaden and the fight choreography isn't as fluid as it should be.  Curse of the Wolf is perfectly enjoyable and good value at £2.99 despite the barebones DVD and substandard AV package.