Serum
Even since before James Whale's Frankenstein in 1931, there has been a fascination in the horror genre with mad scientists and the havoc that their creations can wreak.  The other view is of the human side of 'the monster' and how it must be to wake up in an alien body having been resurrected because of the egotistical ambitions of a doctor.
 
Serum uses the 'mind altering' motif in the mad scientist sub-genre with Dr. Edward Kanopolus experimenting on corpses in the hope of finding a cure for cancer only to find that his guinea pigs wake up with a taste for human flesh (but a cat'll do if it's the first thing that comes to hand!) and immense strength.  He realises that what he needs are living donors for fresh brains and, more importantly, brain fluid.  Unfortunately, the pharmaceutical company sponsoring his research want to see his results or they will pull the plug.
 
Meanwhile, his nephew Eddie, has just become the third member of the family to be accepted to medical school after his  father and uncle but is having girl problems after a mutually agreed split with his girlfriend Sarah led to her starting a relationship with someone else. 
 
When Eddie is hit by a car, his father and uncle agree to experimental treatment, the exact nature of which will be known only to his uncle and, predictably enough, Eddie is healed but becomes a murderous ghoul. 
Serum
begins with Eddie's best friend Walt getting his kicks by spying on Eddie's stepmother sunbathing topless in the garden, knowingly showing off her rather enormous and surgically enhanced breasts and goes on to contain plenty of gratuitous gore and violence so, all in all, a par for the course low budget horror movie aiming to check every box.  Walt and Eddie are pretty staple characters: losers with ambitions above their stations who are neither jocks nor nerds, finding it hard to fit in.  Similarly, Eddie's relationship with Sarah is a film cliché - you know they would get back together if not for the 'unfortunate incident' and they really do love each other. 
The film is played dead straight, from the trailer I expected a horror/comedy along the lines of
Re-animator
but this goes for dark and scary and fails.  The zombie attacks are suitably gory with pretty decent effects for a film of this modest budget but the acting and script are far from convincing.  None of the characters are particularly easy to empathise with as 'Dr. K' is too far out there, Eddie is a bit of a loser and I didn't buy his relationship with either his father or Sarah.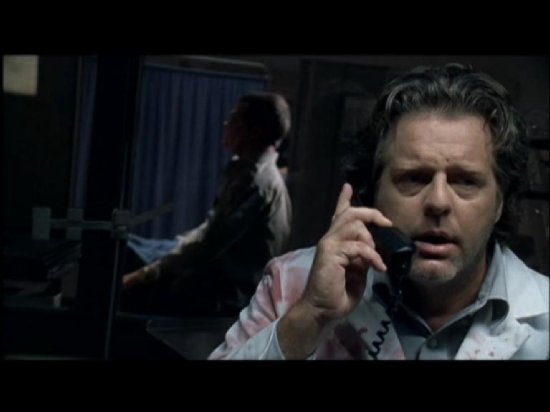 Saying that, this isn't all bad but, at over 100 minutes, is too long and would be more effective at a leaner 80-90 minutes with less time devoted to Eddie and Sarah's doomed relationship and more biting! 
Serum
is perfectly watchable but not the best 'mad scientist' or zombie film around - I much preferred the cheap and cheerful
The Rage
which was played for laughs with OTT gore and a much crazier scientist. 
Picture and Sound
The AV quality is reasonable with perfectly clear dialogue and a fair transfer in the letterboxed frame.  The effects for the (for the want of a better word) zombies are occasionally very good but are occasionally laughable and far from convincing.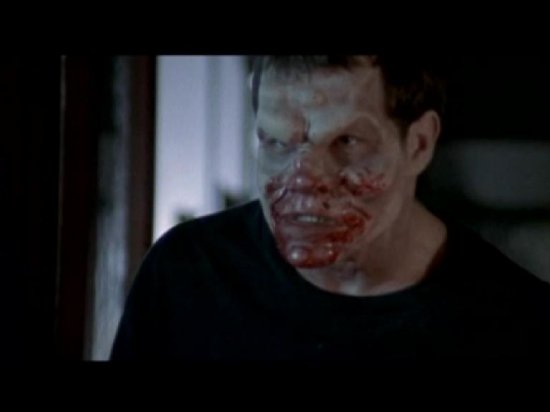 Final Thoughts
Serum
is basically
Re-animator
but without any laughs and it would have benefitted from being a horror/comedy with moments of levity and extreme gore effects rather than going for realism.  It's not a terrible film and writer/director Steve Franke obviously has talent but is slightly hamstrung by the low budget.  Some of the actors acquit themselves well but some of the conversations are overly stagey and wooden. 
Brain Damage Films are releasing this with the very low RRP of £2.99 and, at that price, it's probably worth checking out, even if you pass it on to a friend.