The Coffin Joe Collection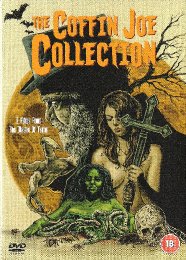 9 Films From the Master of Terror
Certificate: 18
Running Time: 754
Retail Price: £39.99
Release Date: 27/07/2009
Content Type: Movie
Synopsis:
Unholy undertaker, sinful savant, denizen of dreams and hallucinations... a living legend amongst horror and gore fans across the world and the foremost Brazilian director of any genre, José Mojica Marins - better known to most as 'Coffin Joe' - remains one of the most unique and peerless directors in the world today. With his trademark top hat, black cape and talon-like fingernails, Coffin Joe is a horror icon in his own right. Whilst as a director, Marins has an unrelentingly original and outlandishly personal filmmaking style that can only be compared to a depraved blend of Mario Bava, Luis Buñuel and Russ Meyer.

Anchor Bay is proud to present this collection of eight cinematic highlights from Coffin Joe's illustrious career, all available for the first time ever in the UK. This collection includes such seminal studies in terror as At Midnight I Will Take Your Soul (1964), This Night I Will Possess Your Corpse (1967) and The Strange World Of Coffin Joe (1968). Also included is the documentary film The Strange World Of Mojica Marins (2001) which won the special jury prize at the 2001 Sundance Film Festival.

Each disc boasts digitally enhanced picture and sound, making this the definitive celebration of one of the most masterful and revered directors of our time.
Special Features:


Video Tracks:
Full Frame 1.33:1

Audio Tracks:
Dolby Digital 2.0 Stereo Portuguese

Subtitle Tracks:
English

Directed By:
José Mojica Marins

Written By:
José Mojica Marins

Producer:
José Mojica Marins

Distributor:
Anchor Bay Entertainment