The Incredible Hulk 2-Disc Special Edition (UK)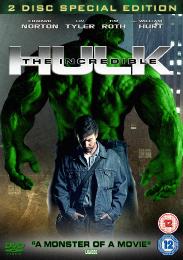 Certificate: 12
Running Time: 108 minutes
Retail Price: £24.99
Release Date: 21/10/2008
Content Type: Movie
Synopsis:
Ever vigilant of the Government forces tracking him under the guidance of the obsessive General 'Thunderbolt' Ross (William Hurt), Dr Bruce Banner (Edward Norton) has taken refuge in South America. Whilst striving to find an antidote to the effects of the gamma radiation that has changed his life, Banner tries to live a peaceful existence in Rio de Janeiro, constantly fearful of the damage his alter-ego can wreak.

Just as he is on the verge of finding a possible cure the military find Banner again. The chase begins, setting in motion a chain of events that force Banner to confront the monster within himself and the rage-fuelled Abomination, a creature spawned from the vary mutation that created The Incredible Hulk...

Louis Leterrier (Transporter 2) directs a re-boot of Marvel's not-so-jolly green giant in an action packed blockbuster that really does bust some blocks!
Special Features:
DISC 1:
3 TRAILERS (The Mummy: Tomb Of The Dragon Emperor, Iron Man, Marvel Animation (Wolverine and The X-Men, Iron Man: The Animated Series, Marvel Superhero Squad, Next Avengers: Heroes of Tomorrow, Hulk Versus Wolverine, Hulk Versus Thor, Black Panther, Marvel Anime),
COMMENTARY (Louis Leterrier, Tim Roth (subtitled)),

DISC 2:
ALTERNATE OPENING (2.26),
23 DELETED SCENES ((42:38) 'Bruce in Brazil' (3:11), 'Bruce Meditates' (:47), 'Searching for The Flower' (:41), 'Building the Lab' (1:24), 'After the Bottling Factory/General Greller' (2:50), 'Ross and Blonsky Conspire (extended)' (4:32), 'Bruce delivers Pizza' (1:46), 'The Computer Lab' (:52), 'Bruce and Stanley' (:52), 'Bruce meets Leonard' (:51), 'Bruce and Betty talk' (:54), 'Dinner with Bruce' (3:20), 'The Orchid' (1:31), 'Betty and Leonard' (1:27), 'Bruce and Leonard/Leonard's House - the Next Morning' (4:18), 'Bruce's Guilt' (1:47), 'Nature's Mystery' (3:02), 'Motel Room Conversation' (1:21), 'Ross and Greller' (1:26), 'Pawn Shop' (:25), 'On the Hulk Hunt' (1:25), 'Ross and Sparr' (2:38), 'Leonard calls Betty' (1:49)),
THE MAKING OF INCREDIBLE (29:54),
BECOMING THE HULK (9:23),
BECOMING THE ABOMINATION (10:17),
ANATOMY OF A HULK-OUT ((27:51) 'Hulking Out in the Bottling Plant' (9:45), 'Hulking Out on Campus' (10:09), 'Hulking Out in Harlem' (7:58)),
FROM COMIC BOOK TO SCREEN (6:34).

Video Tracks:
2.35: Anamorphic

Audio Tracks:
Dolby Digital 2.0; Dolby Digital 5.1: English, Hungarian

Subtitle Tracks:
English SDH, Arabic, Danish, Dutch, Finnish, Hungarian, Icelandic, Norwegian, Swedish, Turkish

Directed By:
Louis Leterrier

Written By:
Zak Penn

Starring:
Edward Norton
Liv Tyler
Tim Roth
Tim Blake Nelson
Ty Burrell
William Hurt

Casting By:
Laray Mayfield

Soundtrack By:
Craig Armstrong

Director of Photography:
Peter Menzies Jr.

Editor:
John Wright
Rick Shaine

Costume Designer:
Denise Cronenberg
Renee Bravener

Production Designer:
Kirk M. Petrucelli

Visual Effects:
Rhythm & Hues Studios
Soho VFX
[hy*drau"lx]
Image Engine
Pixel Liberation Front
Lola/VFX
G Creative Solutions
X1FX

Producer:
Avi Arad
Gale Anne Hurd
Kevin Feige

Executive Producer:
Stan Lee
David Maisel
Jim Van Wyck

Distributor:
Universal Pictures