The Apollo Story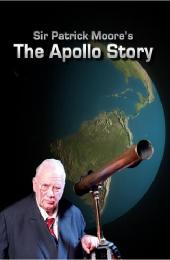 Man's Journey to the Moon
Certificate: E
Running Time: 46mins
Retail Price: £4.99
Release Date: 01/06/2009
Content Type: Movie
Synopsis:
'... I believe that this nation should commit itself to achieving the goal, before this decade is out, of landing a man on the Moon and returning him safely to the Earth.'

With these words, delivered in a speech at Rice University on 12th September 1962, President John F. Kennedy signalled the start of a space race that was to end with Neil Armstrong stepping on to the surface of the Moon. But what of the history of the Apollo programme, of their great exploratory successes and the human cost of their spectacular failures?
On this DVD, and with unique NASA footage and access to the Science Museum's fantastic Space Expedition, Sir Patrick Moore, to many the voice of the actual Moon Landings, explains the Apollo project in great detail, including the launch pad disaster of the Apollo 1 mission, which lead to the deaths of the three astronauts Virgil Grissom, Ed White and Roger Chaffee, Neil Armstrong's first historical 'giant leap for mankind' on to the lunar surface, and to the explosion on board Apollo 13, where the world held it's breath and prayed for the safety of its three astronauts.
Special Features:
Photo Gallery

Related Websites:
http://www.revfilm.biz/

Audio Tracks:
English: Dolby Digital 2.0

Subtitle Tracks:
None

Written By:
Sir Patrick Moore

Starring:
Sir Patrick Moore