Silverado: Collector's Edition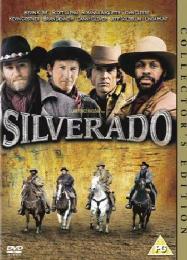 Get ready for the ride of your life
Certificate: PG
Running Time: 127 mins
Retail Price: £12.99
Release Date: 2005
Content Type: Movie
Synopsis:
Four strangers became friends. Four friends became heroes. On the road to... Silverado.

Get ready for some horse-ridin', gun-totin', whiskey drinkin' fun in this digitally remastered DVD edition of Lawrence Kasdan's Silverado!

This spirited Western stars Kevin Kline, Scott Glenn, Kevin Costner and Danny Glover as four unwitting heroes who cross paths on their journey to the sleepy town of Silverado. Little do they know the town where their family and friends reside has been taken over by a corrupt sheriff and a murderous posse. It's up to the sharp-shooting foursome to save the day, but first they have to break each other out of jail and learn who their real friends are...
Special Features:
A History of Western Shootouts Clip Compilation
Along The Silverado Trail: A Western Historians' Commentary
The Making Of Silverado
A Return To Silverado with Kevin Costner featurette

Video Tracks:
2.40:1 anamorphic widescreen

Audio Tracks:
Dolby Digital 5.1 Surround English
Dolby Digital 2.0 Surround Spanish

Subtitle Tracks:
English
Arabic
Danish
Finnish
Hindi
Norwegian
Portuguese
Spanish
Swedish

Directed By:
Lawrence Kasdan

Written By:
Lawrence Kasdan
Mark Kasdan

Starring:
Kevin Kline
Scott Glenn
Kevin Costner
Danny Glover
John Cleese
Rosanna Arquette
Brian Dennehy
Linda Hunt
Jeff Goldblum
Jeff Fahey

Casting By:
Wallis Nicita

Music From:
Bruce Broughton

Director of Photography:
John Bailey

Editor:
Carol Littleton

Costume Designer:
Kristi Zea

Production Designer:
Ida Random

Producer:
Lawrence Kasdan

Executive Producer:
Mark Kasdan
Charles Okun
Michael Grillo

Distributor:
Sony Pictures Home Entertainment