Area 88: Vol.4 - Wings of the Wind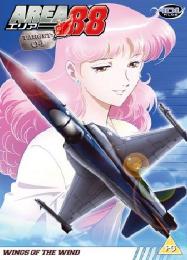 Betrayals
Certificate: PG
Running Time: 75 mins
Retail Price: £19.99
Release Date: 2007
Content Type: TV Series
Synopsis:
The celebration of successfully completed missions has been cut short. The enemy is splashing Area 88's pilots at an alarming rate. Something about the enemy pilot's maneuvers strikes a memory in Mickey, and it's up to him and the rest of the Area 88 mercenaries to clear the threat for good.

Meanwhile Shin's saving from his kills are approaching his contract buyout price and he is planning on going home to Ryoko in Japan.

However, Kanzaki has other plans that place Shin into dangerous skies. Shinjou is beginning to have a change of heart about his mission, but will it be too late?

As the story of Area 88 draws to a close, there is a whirlwind of betrayal and broken promises to keep you guessing right up to the surprise ending.
Special Features:
Clean Credits
Aircraft Specs
Production Sketches
Interviews

Video Tracks:
1.78:1 anamorphic widescreen

Audio Tracks:
Dolby Digital 5.1 Surround English
Dolby Digital 2.0 Stereo Japanese

Subtitle Tracks:
English

Directed By:
Isamu Imakake

Written By:
Hiroshi Ohnogi
Kaoru Shintani

Starring:
Shinichiro Miki
Takehito Koyasu
Chikao Ohtsuka
Hikaru Midorikawa
Hiroki Takahashi
Masaya Takatsuka
Ryou Hirohashi
Sanae Kobayashi
Satsuki Yukino
Chris Patton
John Gremillion
Andy McAvin
George Manley
Hilary Haag
Illich Guardiola
Jason Douglas
John Swasey
Nancy Novotny

Music From:
Kazunori Miyake