Ouran High School Host Club: Series 1 - Part 1 (2 Disc)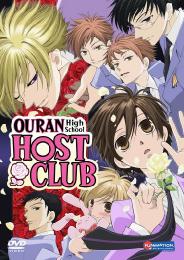 High school was never this much fun!
Certificate: 15
Running Time: 303 mins
Retail Price: £19.99
Release Date: 2009
Content Type: TV Series
Synopsis:
Ouran Academy is an institution of extravagance and prestige where learning comes secondary to luxury. Only those of the highest pedigree and from the wealthiest families are lucky enough to attend. Within this scholastic society those who are truly elite are allowed to become members of the Ouran Host Club.

A group of the most handsome boys on campus, all with far too much time on their hands, the members of the Host Club dedicate every afternoon to selling their charms and entertaining their lovely, bored, female classmates.

But for studious Haruhi Fujioka, on a scholarship and out of place among the moneyed, education is a privilege that must be earned. That is until the day Haruhi stumbles upon the Host Club and accidentally breaks a rare and expensive vase in their clubroom. Now indebted for millions of yen, the only way for Haruhi to pay for the damage is to agree to work as a host until the debt is paid. There's just one small problem - Haruhi is a she!

Between contending with the wildly inflated egos of her fellow escorts and navigating the potential calamities of constant cross-dressing, Haruhi's freshman year looks like it will certainly be one to remember!
Special Features:
Commentaries on selected episodes
Ouran High School Host Club manga pages
Outtakes
Textless Songs
Trailers

Video Tracks:
4:3 regular

Audio Tracks:
Dolby Digital 2.0 Stereo English
Dolby Digital 2.0 Stereo Japanese

Subtitle Tracks:
English

Directed By:
Takuya Igarashi

Written By:
Yoji Enokido
Bisco Hatori

Starring:
Maaya Sakamoto
Ayaka Saito
Daisuke Kirii
Kenichi Suzumura
Mamoru Miyano
Masaya Matsukaze
Yoshinori Fujita
Caitlin Glass
Vic Mignogna
Greg Ayres
J. Michael Tatum
Luci Christian
Todd Haberkorn
Travis Willingham

Casting By:
Jun Maki

Music From:
Yoshihisa Hirano

Director of Photography:
Shuichi Heishi

Editor:
Shigeru Nishiyama

Producer:
Manabu Tamura
Masahiko Minami
Masahiro Yamashita
Toshio Nakatani

Distributor:
Funimation
Manga Entertainment