Bleach: Series 3 Part 1 (3 Discs) (UK)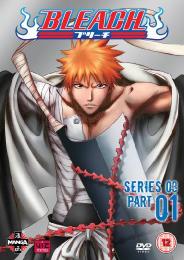 The Soul Reapers Have Arrived!
Certificate: 15
Running Time: 278 mins
Retail Price: £24.99
Release Date: 2009
Content Type: TV Series
Synopsis:
Ichigo Kurosaki is an ordinary 15-year-old boy who happens to be able to see ghosts. His fate takes an extraordinary turn when he meets Rukia Kuchiki, a Soul Reaper who shows up at Ichigo's house on the trail of a Hollow, a malevolent lost soul. Drawn to Ichigo's high level of spiritual energy, the Hollow attacks Ichigo and his family. Rukia steps in to help, but is injured and unable to fight. As a last resort she decides to transfer a part of her Soul Reaper powers to Ichigo. Now a fully-fledged Soul Reaper, Ichigo joins together with Rukia, minus her powers, to face whatever challenges lie ahead…

While trying to evade the pursuing Soul Reapers and rescue Rukia, Orihime and Uryu are confronted by the captain of Squad 12, the despicable Mayuri Kurotsuchi, who plans on using them as guinea pigs for his experiments! Meanwhile, Yoruichi has revealed her true form to the astonishment of Ichigo and the others, and must use all her tricks and skills to keep her fellow intruders from losing everything they've fought for. Lieutenant Momo Hinamori recalls her days in training at the Soul Reaper Academy, where she first met Captain Sosuke Aizen. In the present, the letter Aizen left for her at his death scene leads Momo to believe she has identified his killer... While Ichigo and Renji train with Yoruichi to achieve bankai, Rukia recalls a bit of her own past in a dream that she believes will prepare her to face her execution--which has been moved up to the next day!

Adapted from the best-selling manga series that has spawned two OVAs, two animated feature films, a rock musical, and numerous video games, Bleach is a deft blend of supernatural horror, sword-swinging combat action and frequent moments of appealing teen comedy.
Special Features:
Textless Closing
Production Art Galleries
Manga Trailers

Video Tracks:
Standard 1.33:1

Audio Tracks:
Dolby Digital Stereo 2.0 Japanese
Dolby Digital Stereo 2.0 English

Subtitle Tracks:
English

Written By:
Tite Kubo

Starring:
Quinton Flynn
Johnny Yong Bosch
Masakazu Morita
Fumiko Orikasa
Yuki Matsuoka

Distributor:
Manga Entertainment Ltd