Orguss 02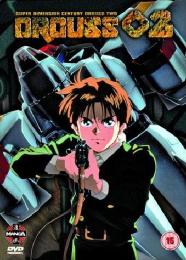 The complete OVA series on one disc
Certificate: 15
Running Time: 168 mins
Retail Price: £15.99
Release Date: 2004
Content Type: Movie
Synopsis:
For 200 years the devastating weapons known as Decimators laid silent on the ocean floor. Now, two opposing armies race to reactivate these robots and the world moves ever closer to an all-out war...

For 200 years they lay deep beneath the Earth, silent on the ocean floor. Now the rival nations of Zafran and Rivilia race to gain possession of the Decimators, destructive robots of war. Even though these armaments are from the past, the Decimators have become key components in a bi-lateral military build-up as a political tension between the two lands escalates. Earth itself faces extinction should these ultimate weapons be unleashed!

Based on the hit 35 episode Japanese telelvision series ORGUSS, acclaimed anime director Fumihiko Takayama brings the story 200 years into the future. ORGUSS 02 features six pulse-pounding thirty-minute episodes of dramatic mecha combat, giant robots and political intrigue interwined with explosive sci-fi combat.

The complete ORGUSS 02 series on one exciting DVD featuring episodes one through to six: Fool's Choice, Where Angels Fear To Tread, Fugitives, Searchers, Destroyer and Those Who Wish Tomorrow.
Special Features:
Photo Gallery
Manga Previews
Exclusive Poster

Video Tracks:
4:3 regular

Audio Tracks:
Dolby Digital 5.1 Surround English
Dolby Digital 2.0 Stereo English
Dolby Digital 2.0 Stereo Japanese

Subtitle Tracks:
English

Directed By:
Fumihiko Takayama

Written By:
Hiroshi Yamaguchi
Mayori Sekijima
Yuji Kishino
Fumihiko Takayama

Starring:
Shinichirô Ôta
Naoko Nakamura
Yôsuke Akimoto
Phil I. Arndt
Steve Blum
Ivan Buckley
Steve Bulen
Kouichi Yamadera
Kazuhiko Kishino
Kazuyuki Sogabe
Kôzô Shioya
Wakana Yamazaki
Melody Lee
Rudy Luzion
Alfred Thor

Music From:
Torsten Rasch

Director of Photography:
Akihiko Takahashi
Toyomitsu Nakajo

Producer:
Akira Inokuchi
Hirotake Kanda
Masato Terada
Yuka Ohnishi

Executive Producer:
Shigeru Watanabe
Yoshimasa Ohnishi

Distributor:
Manga Entertainment