Scar: Limited Gruesome 3D Edition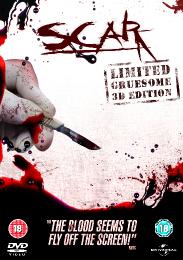 Certificate: 18
Running Time: 79
Retail Price: £17.99
Release Date: 02/03/2009
Content Type: Movie
Synopsis:
In the small town of Ovid, Colorado, Joan Burrows (Angela Bettis) manages to escape from the evil clutches of Ernie Bishop, the local undertaker who had a penchant for the torture, mutilation and murder of teenage girls. As the sole survivor of Bishop's sadistic reign of terror Joan becomes the local hero.

Sixteen years later, still carrying the scars of her ordeal, Joan returns to her hometown for the first time to see her niece, Olympia (Kirby Bliss Blanton), crowned Prom Queen. Soon after her arrival, strange murders begin to take place, with teenagers - specifically Olympia's friends - being abducted and gory 'clues' are being left behind. At first, Joan fears that Bishop has somehow returned from the grave and fears for her own sanity.

This vicious and unrelenting serial killer goads one victim into ordering the torture and execution of another in order to reduce their own suffering. Packed with gruesome and blood chilling torture methods, as teeth are wrenched out and tongues removed, the victims are subject to both physical and mental agony. As the police begin to piece together the bloody clues, Olympia suddenly disappears and Joan is forced to confront her deepest fears and once again go after this brutal and barbaric maniac herself.
Special Features:


Video Tracks:
Anamorphic 1.78:1

Audio Tracks:
Dolby Digital 5.1 Surround English
Dolby Digital 2.0 Stereo English

Subtitle Tracks:
English HoH

Directed By:
Jed Weintrob

Written By:
Zack Ford

Starring:
Angela Bettis
Brittney Wilson
Ben Cotton
Christopher Titus
Kirby Bliss Blanton
Monika Mar-Lee
Bill Baksa
Carey Feehan
Devon Graye
Kristin Kowalski
Brandon Jay McLaren
James D. Hopkin

Casting By:
Deb Green
Aaron Griffith

Soundtrack By:
Roger Neill

Director of Photography:
Toshiaki Ozawa

Editor:
Chris Figler

Costume Designer:
Christine Thomson

Production Designer:
Trevor Smith

Producer:
Douglas Berquist
Courtney Potts
Norman Twain
Jamie Gordon

Executive Producer:
Allison Powell
Daniel Hank
Bob Silberberg

Distributor:
Universal Home Entertainment