Russell Peters - someone's going to get hurt real bad...
Introduction
Russell Peters is a Canadian comedian of Indian origin and is possibly one of the most famous comedians in the world at the moment. His recent performance history reads like an entry to the Guinness Book of Records:
April 2005 - first South Asian to headline and sell-out the Apollo Theatre, New York
June 2008 - first comedian to sell-out Toronto's Air Canada Centre, performing to 30,000 people over two nights
He also sold tickets for a recent tour of Dubai at a rate of one every two seconds, causing all the on-line sales outlets to crash. And finally in February 2008, he became one of only a handful of comedians to headline and sell-out Madison Square Garden, where filming of this DVD occurred. How rock 'n roll.
And it doesn't end there, Peters is introduced at this event by none other than Mele Mel, which is spelled slightly different from when I bought the 12" version of White Lines, and flanked by two DJ's who provide entry and exit vibes.
Peters' routine is built around observations on different race and cultures, with his own Indian heritage coming under his spotlight the most but other races and cultures unable to escape his attention. His audience and appeal is wide-ranging with people seemingly turning up and queuing for the front rows just to become part of his routine.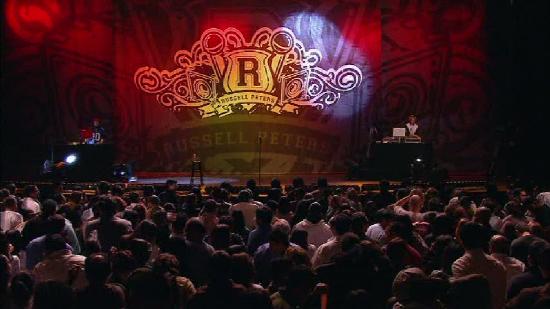 Extras
Some extra routines that can be played separately, together (well as chaptered on the DVD) and/or with commentary. Some work, others not so much.
There's also a 'sneak peek' at a forthcoming documentary on Peters.
The commentaries are by Peters alongside either his brother and/or director Jigar Tilati. Listened to a couple of the yak tracks to try and get a feel (as I'm not the greatest fan of them) and they were a little hit and miss. Peter's brother is generally very supportive of his younger sibling and some of the points raised about the origins or the feel of routines are interesting. As ever though, it doesn't always work.
Overall, good value for money. Only drawback is that Amazon lists this item as coming with an audio CD which wasn't provided for review.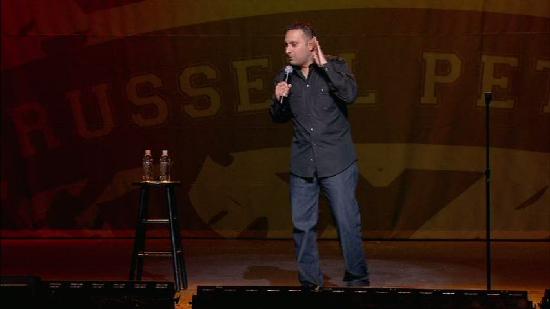 Overall
I didn't realise it when I first started watching this, but I've seen some of Russell Peters before. He is fantastically funny with some great observations on different cultures. The main routine is shorter than I thought it would be at just over an hour but there is plenty within the extras to pad it all out. It was only watching some of the extra stuff that I recognised some of his earlier routines. There are loads of clips on youTube as well for anyone who wants to familiarise themselves with his style.
Only drawback to this release from my perspective is that it was provided on DVD-R, which reviewers universally hate. On the plus side, it's a comedy DVD so it probably doesn't differ quality wise from the retail version, although the screenshots don't look that great - the actual viewing picture is of good quality. Would also have been nice to have had a chance to test drive the audio disc but you can't have everything.
Superb stuff.