Mozart: Die Entführung aus dem Serail (Carydis)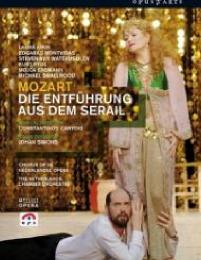 Certificate: None
Running Time: 214 mins
Retail Price: £29.99
Release Date: 01/01/2009
Content Type: Musical Recording
Synopsis:
Johan Simons' feisty production of Die Entführung aus dem Serail is an intelligently innovative account of Mozart's 1782 comic tale of abduction, love, loyalty and forgiveness. Kurt Rydl's Osmin is hilarious, with just the right edge of latent thuggery; Mojca Erdmann's smart and cheeky Blonde sports a red riding coat, high latex boots and a belt that she is not afraid to use on the men! Laura Aikin's Konstanze, torn between true love and obligation, reveals a vast range of human emotions and Edgaras Montvidas' Belmonte portrays his coming-of-age with clarity and genuine charisma. The performance is whipped up to a feverish pitch in the pit by Constantinos Carydis, the orchestra and chorus responding with fleet virtuosity. This ground-breaking performance delivers everything one could wish for from a Mozart opera, combining thrilling energy with a profound sense of lyrical beauty and truth.

Konstanze: Laura Aikin
Belmonte: Edgaras Montvidas
Osmin: Kurt Rydl
Blonde: Mojca Erdmann
Pedrillo: Michael Smallwood
Bassa Selim: Steven Van Watermeulen

The Netherlands Chamber Orchestra
Chorus of De Nederlandse Opera
Musical Director: Constantinos Carydis
Stage Director: Johan Simons

Recorded live at Het Musiektheater, Amsterdam on 2nd, 7th & 19th February 2008.
Special Features:
Illustrated synopsis & cast gallery.
Interviews with the cast.
Behind the scenes documentary.

Related Websites:
http://www.opusarte.com/
http://www.dno.nl/home.php

Video Tracks:
NTSC 16:9

Audio Tracks:
DTS 5.0 Surround
LPCM Stereo

Subtitle Tracks:
English
French
German
Spanish
Italian
Dutch