[REC]: Two Disc Special Edition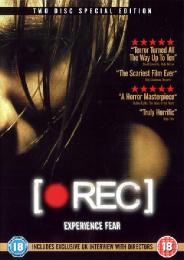 Experience Fear
Certificate: 18
Running Time: 75
Retail Price: £17.99
Release Date: 11/08/2008
Content Type: Movie
Synopsis:
A team of local TV reporters are following a squad of firemen on night duty. The footage is completely live and their task is to make show about on the life of these professionals who work while we are sleeping.

The first job of the night is to rescue an old lady who is trapped inside her apartment but the routine rescue soon takes a sinister turn. Something evil is spreading throughout the building, out of control. Trapped inside, the firemen and the TV crew have to confront an unknown and lethal horror.

Now, the only thing that matters is hiding, surviving and trying desperately to escape. They must keep on recording. No matter what happens. Until the very last moment.
Special Features:
• The Making of Rec
• Promotional Gallery
• Interview Gallery
• The Cutting Room
• Production Notes

Video Tracks:
Anamorphic 1.85:1

Audio Tracks:
DTS 5.1 Spanish
Dolby Digital 5.1 Spanish

Subtitle Tracks:
English

Directed By:
Jaume Balagueró
Paco Plaza

Written By:
Jaume Balagueró
Luis Berdejo
Paco Plaza

Starring:
Manuela Velasco
Ferran Terraza
Jorge Serrano
Pablo Rosso
David Vert
Vicente Gil
Martha Carbonell
Carlos Vicente
María Teresa Ortega
Manuel Bronchud
Akemi Goto
Chen Min Kao
Maria Lanau
Claudia Font
Carlos Lasarte
Javier Botet
Ben Temple
Ana Velásquez
Daniel Trinh
Marita Borrego
Jana Prats
Víctor Massagué

Casting By:
Cristina Campos

Director of Photography:
Pablo Rosso

Editor:
David Gallart

Costume Designer:
Glòria Viguer

Producer:
Julio Fernández

Executive Producer:
Carlos Fernández
Julio Fernández

Distributor:
Contender Films