Adams: Doctor Atomic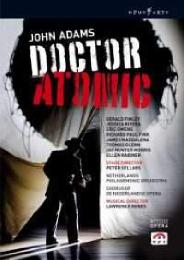 Live from Het Musiektheater, Amsterdam
Certificate: None
Running Time: 288 mins
Retail Price: £29.99
Release Date: 2008
Content Type: Movie
Synopsis:
The longing to overcome human boundaries led the physicist J. Robert Oppenheimer to begin an experiment that formed a threat to the whole of humanity, and whose scientific results still do today. The question of the moral implications of the atomic bomb is raised in John Adams' opera, just as much as that of the influence on the private lives of the main characters. Doctor Atomic is the fifth work to result from almost twenty years of collaboration between the American composer and his fellow American director and Erasmus Prize-winner Peter Sellars.




J. Robert Oppenheimer: Gerald Finley
Kitty Oppenheimer: Jessica Rivera
General Leslie Groves: Eric Owens
Edward Teller: Richard Paul Fink
Jack Hubbard: James Maddalena
Robert Wilson: Thomas Glenn
Captain James Nolan: Jay Hunter Morris
Pasqualita: Ellen Rabiner

Chorus of De Nederlandse Opera
Netherlands Philharmonic Orchestra
Musical Director: Lawrence Renes
Stage Director: Peter Sellars

Recorded live at Het Musiektheater, Amsterdam on 7th, 25th & 29th June 2007.
Special Features:
Interview with Peter Sellars.
Illustrated synopsis & cast gallery.

Related Websites:
http://www.dno.nl/home.php?&lang=uk
http://www.opusarte.com/

Video Tracks:
NTSC 16:9

Audio Tracks:
DTS
DD 2.0

Subtitle Tracks:
English
French
German
Spanish
Dutch