They Live (Re-issue)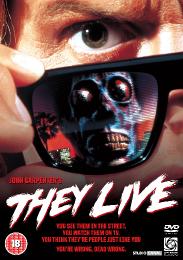 Who are they? And what do they want?
Certificate: 18
Running Time: 90 mins
Retail Price: £12.99
Release Date: 22/09/2008
Content Type: Movie
Synopsis:
Obey. Submit. Consume. Watch TV. Do not question authority. Money is your god. No independent thought. No Imagination. They live. We sleep.

Professional WWF wrestler "Rowdy" Roddy Piper plays John Nada, a homeless, unemployed construction worker who discovers a pair of sunglasses that when worn suddenly reveal a world run by upwardly mobile, capitalist, yuppie aliens intent on keeping the human race sedate and brainwashed with subliminal messages fed through advertising and the media. Luckily for us all John Nada wants to do now is chew gum and kick ass, and he's all out of gum.

They Live is one of John Carpenters most accomplished films. An action packed, satirical, sci-fi adventure and socio-cultural critique on the decline of spiritual values and the rise of consumerism within modern society, It also include one of the longest fist fights in the history of cinema.
Special Features:
Making-of Featurette
John Carpenter profile
Roddy Piper profile
Meg Foster profile
Audio Commentary by Director John Carpenter and Roddy Piper
Theatrical trailer

Video Tracks:
Widescreen Anamorphic 2.35:1

Audio Tracks:
Dolby Digital 5.1 English
Dolby Digital Stereo 2.0 English

Directed By:
John Carpenter

Written By:
John Carpenter
Ray Nelson

Starring:
Raymond St. Jacques
Peter Jason
Meg Foster
Keith David
Roddy Piper

Soundtrack By:
Alan Howarth
John Carpenter

Director of Photography:
Gary B. Kibbe

Editor:
Frank E. Jimenez
Gib Jaffe

Producer:
Sandy King
Shep Gordon
Larry J. Franco

Executive Producer:
Andre Blay

Distributor:
Optimum Home Entertainment