Three and Out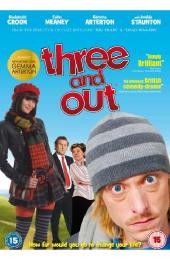 1 was an accident, 2 was bad luck, 3 was his chance of a lifetime...
Certificate: 15
Running Time: 96 minutes
Retail Price: £15.99
Release Date: 15/09/2008
Content Type: Movie
Synopsis:
How far would you go to change your life? If a deal's a deal, what do you do if you can't live with the consequences? This is the dilemma facing tube driver Paul Callow in Three And Out.

Starring Mackenzie Crook (Pirates of the Caribbean, The Brothers Grimm, The Office) in his first lead role, Three And Out combines riotous comedic capers with painfully funny truths. Crook's gangly, sensitive English actor is perfectly placed against the big and burly Colm Meaney (Layer Cake, Con Air, The Commitments) who plays suicidal Tommy Cassidy. Added to mix is new Bond girl Gemma Arterton who plays Tommy's feisty daughter and Callow's love interest Frankie, with Oscar nominated Imelda Staunton (Harry Potter, Vera Drake, Cranford) playing Frankie's mother and Tommy's estranged wife, Rosemary.

Directed by first-time helmer Jonathan Gershfield (Big Train, Dead Ringers, Twisted Tales), Three And Out also features a soundtrack with two classics sung by Lee Mead (Joseph and the Amazing Technicolor Dreamcoat), an original score by award-winning composer Trevor Jones and tracks by The Coral, Blondie, The Pogues and more...
Special Features:


Related Websites:
http://www.threeandoutmovie.com/

Video Tracks:
2.35:1 anamorphic

Audio Tracks:
DD2.0 stereo
DD5.1

Subtitle Tracks:
English

Directed By:
Jonathan Gershfield

Starring:
Mackenzie Crook
Colm Meaney
Gemma Arterton
Imelda Staunton

Soundtrack By:
Trevor Jones

Music From:
Lee Mead
The Coral
Blondie
The Pogues