Appleseed (2004) (2-disc)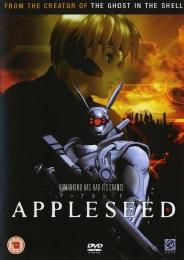 Humanity's last chance for survival.
Certificate: 12
Running Time: 105 mins
Retail Price: £19.99
Release Date: 2005
Content Type: Movie
Synopsis:
The brainchild of leading anime creator Masamune Shirow (Ghost in the Shell), 'Appleseed' is a post-apocalyptic science fiction epic brimming with fast-paced action and awe-inspiring visuals!

It's 2131 AD and the future of the human race hangs in the balance. Female soldier Deunan Knute has survived a major war that has pushed the earth to the brink of destruction. Located in a bombed-out urban wasteland, Deunan is transported to the Utopian city of Olympus and reunited with her former lover Briareos whose body is now half man, half cyborg. In Olympus City, half the population is made up of Bioroids, a genetically engineered species with a limited life span who are designed without unstable human emotions in order to create a peaceful society and protect the remaining members of the human race.

In utopia, however, all is not as it seems. A group of rebel humans, who perceive bioroids as a threat to the integrity and future of mankind, try to sabotage the Olympus city computer and destroy the ability to re-activate the bioroid reproductive functions. As Deunan battles to stop the terrorists and find the 'Appleseed' data needed to extend bioroid life, the question of who she can trust and who is actually right- their society, or the terrorists- continues to arise...

'Appleseed' is a cutting edge production that uses state of the art technology and 3DCG to produce one of the most visually arresting and hyper-realistic animations to date. Directed by Shinji Aramaki, 'Appleseed' uses full CGI to allow for dynamic camera movements that enhance the action sequences. Characters are also in full CG, however, using a process called 'toonshading' characters retain an unmistakable 'cell anime look'.
Special Features:
Audio commentary from director Shinji Aramaki and the film's producer
'Birth Of 3D Live Anime' featurette
'Design Archives' gallery
Character gallery
Trailers

Video Tracks:
Widescreen Anamorphic 1.85:1

Audio Tracks:
Dolby Digital 5.1 English
Dolby Digital 5.1 Japanese
DTS 5.1 Japanese

Subtitle Tracks:
English

Directed By:
Shinji Aramaki

Written By:
Masamune Shirow
Haruka Handa
Tsutomu Kamishiro

Starring:
Ai Kobayashi
Jûrôta Kosugi
Yuki Matsuoka
Asumi Miwa
Akimoto Tsubasa
Amanda Winn Lee
Karen Strassman
Jamieson Price
William Knight
Mary Elizabeth McGlynn
Mami Koyama
Takehito Koyasu

Music From:
Paul Oakenfold
T. Raumschmiere
Ryuichi Sakamoto
Basement Jaxx

Production Designer:
Shinji Aramaki

Producer:
Fumihiko Sori

Distributor:
Optimum Releasing