Gladiator (2 Disc Set) (UK)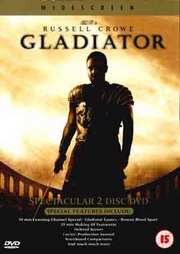 A hero will rise
Certificate: 15
Running Time: 155 mins
Retail Price: £24.99
Release Date:
Content Type: Movie
Synopsis:
The story of a soldier of the Ancient Roman Empire who refuses to transfer his loyalty to the new emperor and pays for it by being made a gladiator, fighting in the Colosseum.

The great Roman General Maximus (Crowe) has once again led the legions to victory on the battlefield. The war won, Maximus dreams of home, wanting only to return to his wife and son; however, the dying Emperor Marcus Aurelius (Richard Harris) has one more duty for the general - to assume the mantle of his power.

Jealous of Maximus` favour with the emperor, the heir to the throne, Commodus (Phoenix), orders his execution and that of his family. Barely escaping death, Maximus is forced into slavery and trained as a gladiator in the arena where his fame grows.

Now he has come to Rome, intent on avenging the murder of his wife and son by killing the new emperor Commodus. Incredible special effects, a superb cast and a moving story combine to make the year`s biggest movie, and the best gladiatorial movie since Spartacus!
Special Features:
Interactive Menus
Scene Access
Director`s commentary
HBO/Dreamworks `Making Of` featurette
Learning Channel historical featurette: `Gladiator`
`Making the Music for Gladiator` with Hans Zimmer
Actor`s Journal
Tribute to Oliver Reed
Deleted scenes with commentary by Ridley Scott
Montage of deleted scenes with score
Storyboard comparison
Cast and crew filmographies

Video Tracks:
Widescreen Anamorphic 2.35:1

Audio Tracks:
Dolby Digital 5.1 English
DTS 5.1 English

Subtitle Tracks:
Hebrew
Icelandic
Polish
Czech
Hindi
Swedish
Finnish
Turkish
English
Greek
Croatian
Hungarian
Dutch
Arabic
Danish
Norwegian
Bulgarian

Directed By:
Ridley Scott

Written By:
William Nicholson
John Logan
David H. Franzoni

Starring:
David Schofield
Djimon Hounsou
Derek Jacobi
Richard Harris
Oliver Reed
Connie Nielsen
Joaquin Phoenix
Russell Crowe

Casting By:
Louis DiGiaimo

Soundtrack By:
Hans Zimmer
Lisa Gerrard
Klaus Badelt

Director of Photography:
John Mathieson

Editor:
Pietro Scalia

Costume Designer:
Janty Yates

Production Designer:
Arthur Max

Producer:
Douglas Wick
Terry Needham
Branko Lustig
David H. Franzoni

Executive Producer:
Steven Spielberg
Walter F. Parkes
Laurie MacDonald

Distributor:
Columbia / Tristar