Bleach: Series 2 Part 1 (3 Discs) (UK) (DVD)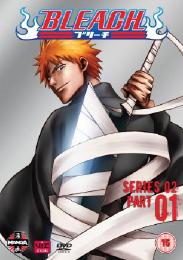 The Soul Reapers Have Arrived!
Certificate: 12
Running Time: 276 mins
Retail Price: £24.99
Release Date: 2008
Content Type: TV Series
Synopsis:
Ichigo Kurosaki is an ordinary 15-year-old boy who happens to be able to see ghosts. His fate takes an extraordinary turn when he meets Rukia Kuchiki, a Soul Reaper who shows up at Ichigo's house on the trail of a Hollow, a malevolent lost soul. Drawn to Ichigo's high level of spiritual energy, the Hollow attacks Ichigo and his family. Rukia steps in to help, but is injured and unable to fight. As a last resort she decides to transfer a part of her Soul Reaper powers to Ichigo. Now a fully-fledged Soul Reaper, Ichigo joins together with Rukia, minus her powers, to face whatever challenges lie ahead…

Guided by Yoruichi the mysterious talking cat, Ichigo and school friends Orihime, Chad and Uryu make the dangerous crossing over to the Soul Society and land on the outskirts of the city where the Soul Reapers live. To succeed in their mission to save Rukia from her captors, they must defeat the giant gatekeeper and find some way into the walled city. But it's not going to be easy.

Alerted to the intruders' attempts to enter the city, the Soul Reapers mobilize their forces to attack. Meanwhile, Rukia is transferred to the Shishinro, the Repentance Cell, to await her execution. Will the rescuers save her in time, or are they destined to die trying?

Adapted from the best-selling manga series that has spawned two OVAs, two animated feature films, a rock musical, and numerous video games, Bleach is a deft blend of supernatural horror, sword-swinging combat action and frequent moments of appealing teen comedy.
Special Features:
Textless Closing
Production Art Galleries
Manga Trailers

Video Tracks:
Standard 1.33:1

Audio Tracks:
Dolby Digital Stereo 2.0 Japanese
Dolby Digital Stereo 2.0 English

Subtitle Tracks:
English

Written By:
Tite Kubo

Starring:
Quinton Flynn
Johnny Yong Bosch
Masakazu Morita
Fumiko Orikasa
Yuki Matsuoka

Distributor:
Manga Entertainment Ltd