Ghost In The Shell: Stand Alone Complex - Individual Eleven (UK) (DVD)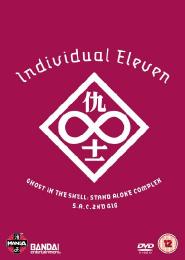 The movie of the second season
Certificate: 15
Running Time: 155 mins
Retail Price: £19.99
Release Date: 2008
Content Type: TV Series
Synopsis:
The year is 2030. It is six months since the members of Section 9 solved the case of The Laughing Man only to discover that on completion of the investigation they had been placed under a government enforced Indefinite Standby Order that effectively rendered the unit inoperable.

Meanwhile, in Japan, trouble is brewing between the nation's "Individualists" and the three million or so refugees who have been invited into the country to fill the ongoing labour shortage. The conflict leads to series of terrorist incidents, the most notable of which is a suicide attack carried out by a group known as the Individual Eleven. Called in to investigate the attack, the members of Section 9 learn there is more to the actions of the terror group than meets the eye.

A surviving member of the Individual Eleven, a prosthetic bodied man named Kuze, emerges as the charismatic leader of the refugees and leads an intensified confrontation against the government. As Section 9 becomes more involved in the ongoing conflict, Motoko begins to feel a strange sense of fate connecting her to Kuze.

Unlike the "Laughing Man" remix, which remained faithful to the main storyline of the TV series, Ghost In The Shell: Stand Alone Complex 2nd Gig - Individual Eleven has gone through a bold editing phase that serves to highlight the story's key relationship between Kuze and Motoko. Add in a selection of new scenes and a remixed soundtrack and the result is a never-before-seen, reborn version of the 2nd GIG.
Special Features:
Stand Alone Complex Archive
Tachikomatic Days
Trailers

Video Tracks:
Widescreen Anamorphic 1.78:1

Audio Tracks:
Dolby Digital 5.1 English
Dolby Digital Stereo 2.0 Japanese
Dolby Digital 5.1 Japanese
Dolby Digital Stereo 2.0 English

Subtitle Tracks:
English

Directed By:
Kenji Kamiyama

Written By:
Yoshiki Sakurai
Masamune Shirow

Starring:
Atsuko Tanaka
Osamu Saka
Takashi Onozuka
Trevor Devall
David Kaye
Russell Roberts
Alison Matthews

Music From:
Yôko Kanno

Editor:
Junichi Uematsu

Executive Producer:
Mitsuhisa Ishikawa

Distributor:
Manga Entertainment Ltd