Chromophobia (UK)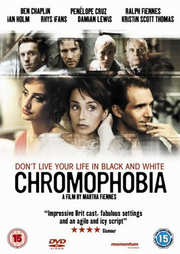 Don`t live your life in black and white.
Certificate: 15
Running Time: 134 mins
Retail Price: £15.99
Release Date:
Content Type: Movie
Synopsis:
Every family has its secrets... But what do you do when your wife Iona Aylesbury (Kristin Scott Thomas) can`t tell the difference between a shrink and a shop, your eight year old son Orlando spray paints his rabbit`s name on the walls to get attention, while his gay godfather, Stephen (Ralph Fiennes), lies half beaten to death in hospital.

To make matters worse your boss is drawing you into a scam which could cost you your career, your father, Edward Aylesbury, has an illegitimate love child with his former mistress Gloria (Penélope Cruz), her social worker Colin (Rhys Ifans) can`t help prying into her past and present, and finally your stepmother`s (Harriet Walter) bond with her dogs is your best role model of a loving relationship.

These are the dilemmas and secrets of Marcus Aylesbury (Damian Lewis).
Special Features:
Trailer

Video Tracks:
Widescreen Anamorphic 1.85:1

Audio Tracks:
Dolby Digital 5.1 English

Subtitle Tracks:
CC: English

Directed By:
Martha Fiennes

Written By:
Martha Fiennes

Starring:
Kristin Scott Thomas
Damian Lewis
Rhys Ifans
Ian Holm
Ralph Fiennes
Penélope Cruz
Ben Chaplin

Casting By:
Lucy Bevan

Soundtrack By:
Magnus Fiennes

Director of Photography:
George Tiffin

Editor:
Tracy Granger

Costume Designer:
Michele Clapton

Production Designer:
Tony Burrough

Producer:
Ron Rotholz
Tarak Ben Ammar

Executive Producer:
Charlie Savill
Peter Samuelson
Marc Samuelson
Ron Rotholz
Marina Fuentes
Steve Christian
Robert Bevan