Madlax: Vol.4 - Elda Taluta (UK)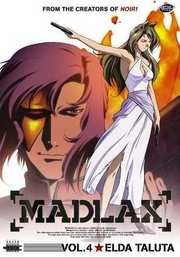 From the creators of Noir!
Certificate: 12
Running Time: 100 mins
Retail Price: £19.99
Release Date:
Content Type: TV Series
Synopsis:
From the creative minds behind "Noir," a compelling saga of two lives and the dark circumstanced surrounding their mysterious connection.

Carrossea Doon - Only he understand where his loyalties lie. On the one hand, he is a highly secretive employee for Bookwald, the largest corporation in the world. On the other, he works in a clandestine manner for the mysterious Friday Monday. Carrossea is a chameleon. He weaves in and out and through not only the civil-war-torn Gazth-Sonika, but also some of the most powerful and influential minds on the planet. And the does it all because he is searching - searching for something of his own. But what that something is, only he knows for sure.

Friday Monday - A mastermind, lunatic, figment of the imagination. He is the cornerstone behind Enfant, the massive information network connected to the mainframe of everything. He knows where you are. He knows why you`re there. And he knows what your next move will be. And of course, he also knows the clouded past - the past holding the keys to Madlax and Margaret and the lives they risk to discover. And that is exactly what Friday Monday plans to use in order to bring upon this world the reality of his wicked dreams.

Contains Episodes 13-16.
Special Features:
Production insert
Clean opening/closing animation
Design sketches
Japanese TV spots
Conversations with SSS
ADV previews

Video Tracks:
Widescreen Anamorphic 1.78:1

Audio Tracks:
Dolby Digital 5.1 English
Dolby Digital Stereo 2.0 Japanese

Subtitle Tracks:
English

Directed By:
Kyle Jones
Kôichi Mashimo

Written By:
Yôsuke Kuroda
Monica Rial

Starring:
Satsuki Yukino
Kelly Manison
Sanae Kobayashi
Nancy Novotny
Jay Hickman
Houko Kuwashima
Luci Christian
Jin Urayama
Toshiyuki Morikawa
Vic Mignogna
Christine M. Auten
Aya Hisakawa

Music From:
Yuki Kajiura

Editor:
Seiji Morita

Producer:
Shigeru Kitayama
Tatsuya Hamamoto
Kyle Jones

Executive Producer:
John Ledford
Mark Williams

Distributor:
ADV Films