Monty Python`s Meaning Of Life (US)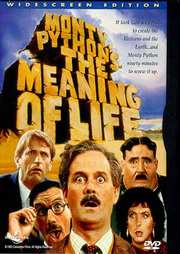 It took God six days to create the earth, and Monty Python just 90 minutes to screw it up
Certificate: R
Running Time: 107 mins
Retail Price: $14.99
Release Date:
Content Type: Movie
Synopsis:
Those six pandemonium-mad Pythons are back with their craziest adventure ever! John Cleese, Graham Chapman, Terry Jones, Eric Idle, Terry Gilliam and Michael Palin have returned to explain The Meaning of Life.

These naughty Britons offer the usual tasteful sketches involving favourite bodily parts and functions, the wonders of war, the miracle of birth and a special preview of what`s waiting for us in Heaven. Nothing is too sacred for the Python crew. After seeing them in action, you`ll never look at life in quite the same way again. It`s far-out, frank, and jolly good fun.

Winner of the 1983 Cannes Film Festival Special Jury Prize..
Special Features:
Interactive Menus
Scene Access

Video Tracks:
Widescreen Letterbox 1.85:1

Audio Tracks:
Dolby Digital Surround 2.0 English

Subtitle Tracks:
CC: English

Directed By:
Terry Jones
Terry Gilliam

Written By:
Michael Palin
Terry Jones
Eric Idle
Terry Gilliam
John Cleese
Graham Chapman

Starring:
Michael Palin
Terry Jones
Eric Idle
Terry Gilliam
John Cleese
Graham Chapman

Casting By:
Debbie McWilliams
Michelle Guish

Music From:
Michael Palin
Terry Jones
Eric Idle
John Du Prez
John Cleese
Graham Chapman

Director of Photography:
Peter Hannan

Editor:
Julian Doyle

Production Designer:
Harry Lange

Producer:
John Goldstone

Distributor:
Image Entertainment