Cromartie High School: Vol.3 - Sailin` Fools (UK)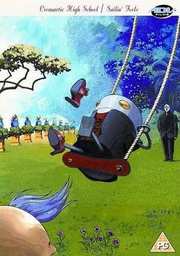 Dudes Don`t Fail Me Now!
Certificate: PG
Running Time: 75 mins
Retail Price: £19.99
Release Date:
Content Type: TV Series
Synopsis:
It`s not easy being a delinquent. Especially if you`re trying to survive the tough streets around Cromartie. There are chat room bullies with no manners, aliens abducting your friends, vicious biker gangs, and the Boss Championship - a famous cutthroat competition to determine who`s the biggest badass around. (Of course, when Kamiyama is running it, it`s more like a gameshow where you have to wear a stupid hat.)

But it seems the biggest danger is...love. Yep, that`s right, Mechazawa is in love. Luckily, this romantic robot has friends like Kamiyama, Hayashida, and Maeda to reprogram him! Wait a minute. Maybe that`s not such a good thing after all...

Contains episodes 15 to 20.
Special Features:
* Cultural notes & comments
* Clean opening/closing animation
* Japanese PlayStation 2 commercials
* Japanese CD/DVD commercials
* Original Japanese TV warning
* Production booklet

Video Tracks:
Standard 1.33:1

Audio Tracks:
Dolby Digital 5.1 English
Dolby Digital Stereo 2.0 Japanese

Subtitle Tracks:
English

Directed By:
Hiroaki Sakurai

Written By:
Eiji Nonaka

Starring:
Norio Wakamoto
Takuma Suzuki
Takahiro Sakurai
Anthony Rocissano
Ben Pronsky
Andy McAvin
Takaya Kuroda
Yuto Kazama
Tetsu Inada
Jay Hickman
John Gremillion
James Faulkner

Music From:
Kunio Suma