Cromartie High School: Vol.2 - Hey Dude (UK)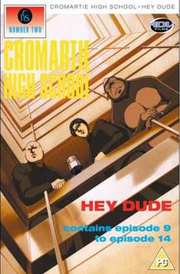 Enrol in a mental institute of higher learning!
Certificate: PG
Running Time: 75 mins
Retail Price: £19.99
Release Date:
Content Type: TV Series
Synopsis:
What are the dumbass delinquents of Cromartie High to do?

Their robot classmate Mechazawa is feeling blue. Seems his little brother keeps getting stepped on, which isn`t surprising since he`s the size of a tea canister! Perhaps Hayashida`s baseball team will lift his spirits - that is, if they can ever find their way out of the woods and onto an actual field. Add a rival gang with hand puppet leaders, a crowd-phobic hijacker on their class field trip, and you have the sophomore volume of the crowd and critic-pleasing smash!

Contains episodes 9 to 14.
Special Features:
* Cultural Notes & Comments
* Clean Opening and Closing Animation
* Original Japanese TV Warnings
* Production Booklet

Video Tracks:
Standard 1.33:1

Audio Tracks:
Dolby Digital 5.1 English
Dolby Digital Stereo 2.0 Japanese

Subtitle Tracks:
English

Directed By:
Hiroaki Sakurai

Written By:
Eiji Nonaka

Starring:
James Faulkner
John Gremillion
Jay Hickman
Tetsu Inada
Yuto Kazama
Takaya Kuroda
Andy McAvin
Ben Pronsky
Anthony Rocissano
Takahiro Sakurai
Takuma Suzuki
Norio Wakamoto

Music From:
Kunio Suma