Strauss, R : Der Rosenkavalier (Davis)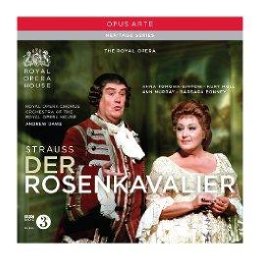 Main Artist: Ann Murray / Kurt Moll / Anna Tomowa-Sintow
About this CD:
Richard Strauss's most popular opera mixes comedy and philosophy, farce and romance.

Anna Tomowa-Sintow, an exceptional Marschallin, is perfectly complemented by Kurt Moll's Baron Ochs, Ann Murray's octavian and Barbara Bonney's Sophie, with the Royal Opera Chorus and the Orchestra of the Royal Opera House conducted by Andrew Davis.

Recorded live by the BBC at the Royal Opera House, Covent Garden on 3rd March, 1995.
Running Time: 3 hrs 5 mins
Retail Price: £24.99
Release Date: 01/10/2010

Related Websites:
http://www.roh.org.uk/
http://www.opusarte.com/