Annus Horribilis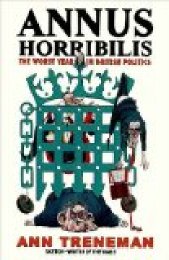 The Worst Year in British Politics
Authors:
Ann Treneman

Retail Price (Hardback):
9.99
Retail Price (Softback): Retail Price (Ebook): ISBN:
978 1 906 14264
First Published:
2009
Related Websites:
http://www.timesonline.co.uk
www.gibsonsquare.com

Description:
On the Cover:
It's been a year of political nightmares, financial disaster and, yes, duck houses. Just when you thought things couldn't get worse, they did. Ann Treneman, the sketchwriter for The Times newspaper, hilariously captured our nation's descent into political madness day by day. Here, she uses her sketches to tell the story of the year that was mad, bad and dangerous for all. You couldn't make it up and she didn't have to. If you didn't laugh, you'd cry. Actually you might cry - with laughter.

First Line
It was the fag-end of a tumultuously turbulent political year when Gordon Brown called his final press conference at Downing Street in late July, just before heading off for what is hilariously called his summer "break" but which, of course, is really just working from Scotland.
Publishers:
Gibson Square