The Mephisto Threat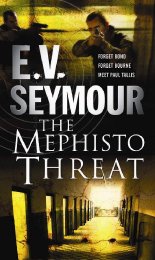 Forget Bond. Forget Bourne. Meet Paul Tallis.
Authors:
E.V. Seymour

Retail Price (Hardback): Retail Price (Softback):
£6.99
Retail Price (Ebook): ISBN:
0778302954
First Published:
21/08/2009
Description:
Ex-army. Ex-police. Unofficial MI5 spook. Meet Paul Tallis - a spy for the 21st Century. In Istanbul, crime journalist Garry Morello is executed in cold blood. Moments before his death, he meets with old friend Paul Tallis, hinting that he has uncovered a link between international terrorism and organised crime back home. On the run from the Turkish authorities, Tallis makes his way back to London and passes the Intel to his MI5 handler. Sent undercover in Birmingham to investigate the threat, Tallis' mission is to infiltrate the inner circle of crime boss Johnny Kennedy. Once inside, Tallis must determine if the charismatic gangster is involved in planning the biggest terrorist attack on Britain - or if his MI5 paymasters are the ones he should be watching.
Publishers:
Mira