Tainted Life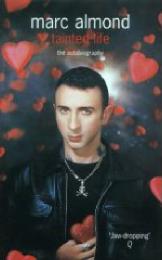 The autobiography of Soft Cell mainman Marc Almond...
Authors:
Marc Almond

Retail Price (Hardback): Retail Price (Softback): Retail Price (Ebook): ISBN:
978-0330372015
First Published:
06/10/2000
Description:
Marc Almond's story features a larger than life cast of characters. It recounts his "de rigeur" plunge into drink, drugs and debauchery as well as being an intimate portrait of the star-making personalities of the 1980s.
Publishers:
Pan Books