Review of Reign Over Me
Introduction
I would imagine that, as a filmmaker, it`s tasking enough to find the requisite balance between comedy and drama, or humour and pathos, when creating a `dramedy`. But that labour must surely increase ten-fold when the foundation for the story relies heavily on familiar events its entire audience can relate to, if not on a personal level, than in a human, altruistic fashion.
`Reign On Me` is not only framed by the terrorist attacks of September 11th, but its entire dramatic weight rests on the psychological repercussions at a very personal level. Don Cheadle plays Alan Johnston, dentist by day and a family man by night, but indifferent to his lot in life, specifically missing the freedom and care-free attitude he had as a single man. A chance encounter with his old college roommate Charlie (Adam Sandler) changes his outlook. Charlie lost his wife and children in the 9/11 attacks, and is a broken, shell of a man who spends his life immersed in music and videogames trying to dull the pain of everyday reality faced with an empty life. Determined to get his old friend help, Alan soon starts to value what he has, but Charlie`s problems run deeper than a re-evaluation of life`s virtues, and some believe it requires a more drastic measure of action to get him back on some sort of track.
Sandler turns in the performance of his career in Mike Binder`s bittersweet character study.
Video
A very solid 2.35:1 transfer. The high definition visuals are sharp and clear enough to play count the freckles on Saffron Burrows` forehead, and Binder`s employment of the wide, composite framing reveals just how much detail the smaller objects can retain in hi-res. It can be quite hard to shake the film noise in certain films, and `Reign Over Me` is no exception, with quite a few scenes falling foul of the incessant block colour buzzing. However, these instances are relatively short and -- in lieu of the overall acuity of the piece -- relatively minor. Blacks on the whole are good, strong and defined, and the palette -- with scenes which run the gamut from sterile surgeries and warm, autumnal locales to the coolness of the Big Apple at night -- transfers well to Blu-ray.
* Viewed on a 32" 1366 x 768 panel at 720p
* The screenshots featured here are for illustrative purposes only. They were not taken from the Blu-ray source, and as such, the images are not representative of the quality of the disc.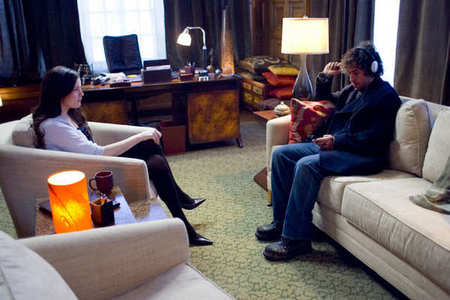 Audio
Uncompressed PCM 5.1, but, like a stuck record this week, I`m still using old-fashioned Dolby Digital and DTS capable audio equipment. So, that leaves us with a slew of DD 5.1 surround tracks to investigate. The disc features them in English, English audio descriptive, Czech, Hungarian, Russian and Polish. The surround tracks are more-or-less perfunctory, seeing as `Reign Over Me` is a dialogue-driven feature, although it does feature frequent use of a licensed soundtrack which comes through well - powerful and clear with good separation. The foreign language tracks are voiceover tracks, not expensive dubs, so essentially spoken dialogue in that tongue is mixed on top of the English track, almost like a commentary, except that to this ear, the performers actual seem to put a good bit of effort into representing the characters well.
Subtitles then. Take a deep breath; English, English SDH, Dutch, Arabic, Bulgarian, Croatian, Czech, Danish, French, Greek, Hebrew, Hindi, Hungarian, Icelandic, Norwegian, Polish, Romanian, Slovene, Swedish and Turkish. Wow, that`s a lot of subtitles.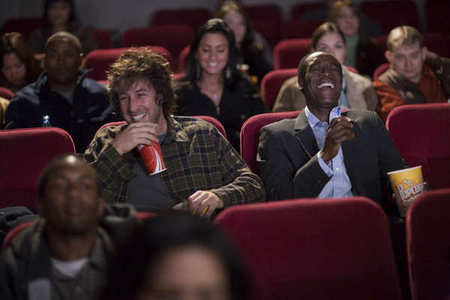 Features
A lacklustre set of bonus features:
`Behind The Reign` - a 15-minute behind the scenes featurette where the cast and crew discuss the genesis of the project and its making.
`Jam Session` - Don Cheadle and Adam Sandler, in character, have a little 4-minute jam with a bass, a guitar and some irreverent lyrics.
`A Still Reign` - an automatic slideshow with promotional stills from the film and from the set, about 5-minutes long.
There`s also a selection of trailers.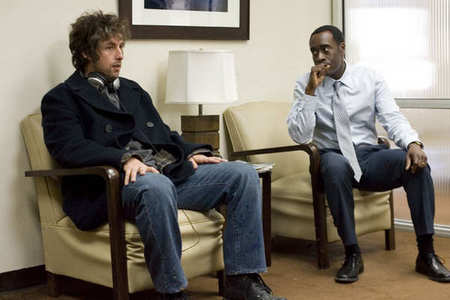 Conclusion
In some respects, it`s unfortunate Adam Sandler is in `Reign Over Me`. Despite his stark, emotionally captivating performance as the man formerly known as Charlie Fineman, his very presence in the film may deprive it of an audience that will truly appreciate it. Sandler`s catalogue of rom-coms and workmanlike vehicles mean certain expectations (or perhaps, a lack of) are attached, and although he showed a very different side to himself in 2002`s `Punch-Drunk Love`, Sandler is synonymous with low-rent, low quality humour, like an upmarket Pauly Shore. Sandler fans won`t like it -- just like `Punch-Drunk Love`, then -- and non-fans are likely to casually peg it as just another `Adam Sandler film`. A crying shame, as it`s a well-envisioned drama that`s frequently amusing despite its subject matter, both incredibly touching and comical with neither muffling the other`s voice.
The writing and direction is on top form, with Binder`s script managing to carefully side-step the shmaltz, `Reign Over Me` can be riotous in one scene, heartbreaking and delicate the next, but always with an underlying poignancy as to the fragility of everything we hold dear, and his visual proclivity towards night-framed shots of Charlie riding around town on a motorised scooter or the emptiness of late night New York encapsulates the alienation of the characters. And the performances are of a high quality too; while Sandler steals the show with cues from Dustin Hoffman in `Rain Man`, Cheadle maintains a quiet dramatic consistency expected of him since `Hotel Rwanda`. Liv Tyler, Saffron Burrows and Jada Pinkett-Smith, in their small, but significant supporting roles, deliver carefully considered turns, and even Donald Sutherland, in a last act appearance which is barely more than a glorified cameo, proves to be a commanding figure of authority, lending extra credence to a powerfully motivated movie with an important message.